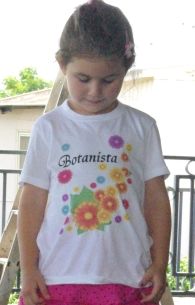 Yes! I have T-shirts! How exciting, an actual product. There will be more.
Like a lot of parents I'm disenchanted with commercially available t-shirts. Somehow I have ended up with little girly-girls who love them a bit of bright pink lace, crystals and ribbons.  I'm tempted to say they're not MY children, except they so obviously are.  And I don't really mind, except I have to buy everything a size too big to get them to fit without looking like, ahem, not little girls.  I've been known to go shopping in the boy's section, but 'Mummy's Little Monster' is just as bad.
And come on, I'm a science geek. So I made me some science geeky shirts, and you can have some too.
How it works
I don't actually make the shirts, I have designed them and they are printed by RedBubble, a UK company. This means they're available anywhere in the world.  They are 100% cotton shirts by American Apparel, I'm very happy with the quality and printing of the ones we got to test them out.  It is a lighter material than most Australian t-shirts, but it's comparable to some we got in the UK so it's probably their standard. 
You go to my profile to check them all out, then:
Choose a design you like.  The way they look in the thumbnail is just a suggestion, you can change the shirt colour when you order.  Click on 'Buy or Preview' to see all your different options.
Choose the type – they are available for adults, kids, babies and as stickers.  Within each category there are different types of clothing like t-shirts or onesies, long or short sleeves etc.
Choose the shirt colour.  Some of the designs are available in light or dark versions so play around.
Put your order in, Red Bubble prints them and notifies you when they are on their way.  Delivery takes around 10-15 days, that was accurate for me which was pretty good given I live in the middle of nowhere.
Disclosure: I own the designs, most of the money you pay goes to Red Bubble for the printing and shirts but I get a percentage of every design sold. Win/win – you get a good quality, customised shirt and support Science@home 😀
Freebies to celebrate!
Competition now ended, sorry.

Aussie Blogging Conference
And for those of you who are going to meet me in less than 3 weeks time at the Aussie Blogging Conference, I'll be easy to spot.  I'm the Alienpologist in bright orange.
Slideshow
Just to show them all off:

Enjoy this article? Subscribe to the weekly newsletter to hear about them all.
Or grab my RSS feed