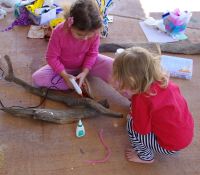 Welcome to the June Teach/Learn Blogging Carnival, 'Kids and Learning.'
The Teach/Learn Blogging Carnival hosted by Science@home is for anyone, because we are all teachers and learners all the time. This month our theme is "Art" which doesn't just mean doing craft – it includes music, performance art and appreciation as well! Our bloggers have come up with many different thought-provoking takes on this theme. Please read through to the end to find links to the other participating blogs.
***
I wanted to write something very special for this one because it's fascinating, but had a lot of trouble knowing where to begin.  There is a whole genre of beautiful and intriguing science/art, my favourite examples are some of the science photography in the Eureka Awards, Australia's science awards.  These are the 2008 finalists, you can see they are stunningly beautiful but at the same time they are also data, they help us to answer scientific questions.
Then there is the scientific study of cave art.  Rock paintings and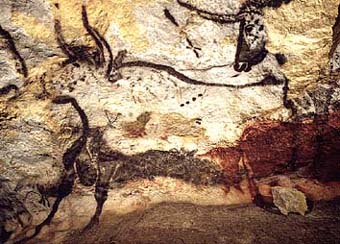 representational art from around the world has been used to develop and support theories about migration, brain and language development, abstract thought, religion, technology, you name it.  It is used for dating and to study the origins of writing.  It has even taught us about biology – there is no other way we could have known that the extinct Irish Elk had a hump.  But that is indulging a bit much in a pet topic, which isn't really in the spirit of Teach/Learn.
An easy one to do with kids is presenting or learning science through art.  With little children so much is done through creativity and craft, I suppose it is a pure form of art because it's their way of exploring and expressing their world.  I've done some examples of that with the Butterfly case study,  the Fairy Tree, chromatography and recently we've been playing with colour.  I've also written about the SPORE project and the way that art and science both encourage creativity.  We do a huge amount of visual art – painting, stickers, drawing, collage – and I wanted to get really active.  I thought that would be where they could explore something completely new, which is where you get great creativity and learning.
I was firstly inspired by a pile of wood that's been sitting in our yard for at least the three and a half years we've lived here.  I noticed it while looking for some good sticks, although it turned out to have an ant's nest in it!  I thought I might encourage the girls to use them to create a sculpture, and the problem of how to put them together would be the science focus.  Then I read this great post by Teacher Tom about using glue guns with pre-schoolers and that seemed to fit in really well – the big girl is fascinated by my glue gun and extremely excited to get to use it.  And the same night I got this post on bush cubby houses from Let the Children Play and that clinched it – another thing encouraging me to get that wood out and play with the girls.
First we collected all sorts of materials to use: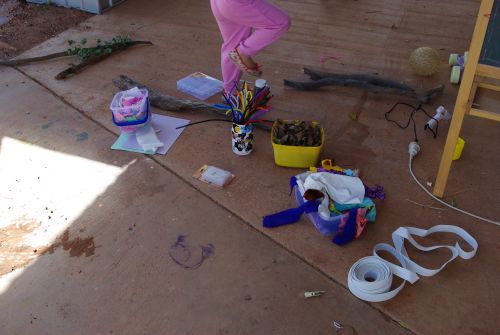 This includes fabric, elastic, pipe cleaners, various paper and glittery things, leaves and wood as well as the hot glue and normal PVA.  I tried to have a variety of things to join and a variety of things that could be used to join.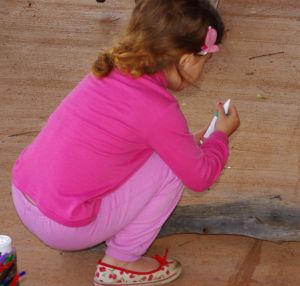 They're very familiar with PVA so used that first, realising very quickly that it couldn't join two pieces of wood.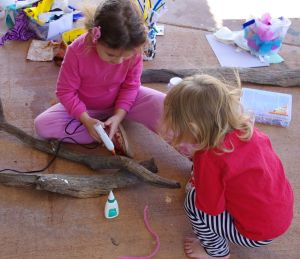 So then came the big moment with the hot glue gun!  This took some experimentation too – with PVA you can put all the glue on then stick things onto it.  With hot glue you need to stick straight away or it has already dried.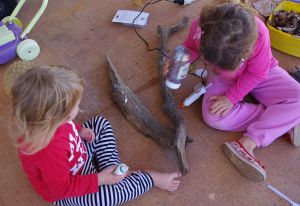 The first attempt at glitter was very disappointing – because the hot glue was in little beads, there wasn't a satisfying burst of colour like they get on paper.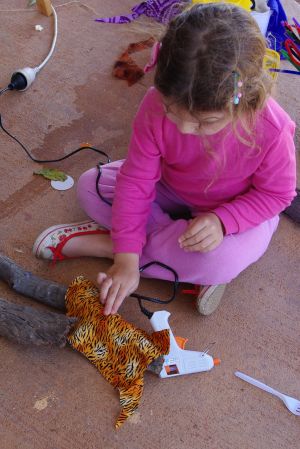 But being able to raid the fabric scraps more than made up for it.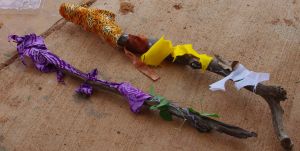 We quickly ended up with several decorated sticks.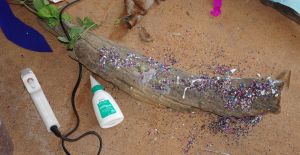 The little one revisited the glitter with two glues.  Since she's more than happy to get glue everywhere, it worked quite well for her.  She was also happy to play with the glue itself.  So yes, the 2 year old did get to play with the hot glue gun, but there are no pictures because I was too busy hovering and helping when the little hands couldn't quite manage.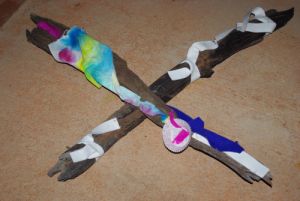 The final step was to start joining the decorated sticks together.  This one is ongoing, the next time it's warm we'll be outside continuing the project.
This project wasn't art meant to express a message.  It was an exploration of lots of different materials to compare them, see how they work, discover what we can do with them and how we can combine them.  And at this age, that is exactly what science is all about.  You don't have to get outside as elaborately as we did, it can be as simple as looking around your house the next time your kids are gluing and finding something different to what they normally use. Let them play with it and discover that different materials have different properties, that affect what you can use them for and how you have to work with them.
***
Visit Science@home to find out more about the Teach/Learn Blogging Carnival. 
Please take the time to visit the other participants and check out their posts on "Art."
Thanks for visiting, we hope you enjoy some of the posts in our carnival.
Enjoy this article? Subscribe to the weekly newsletter to hear about them all.
Or grab my RSS feed