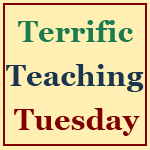 ETA After the comments and discussion, I've started organising a monthly carnival – look at the Teach/Learn tab above to find out all about it.
This post is aimed at other bloggers as well as a heads-up for readers.  A lot of the people I follow and read seem to have an educational flavour to their blogs.  I don't mean it's about school, but about all the non-school things that parents do or are interested in, including child-care, developmental play, speech development, you name it.  There's also the other side, such as a parent's experiences with their child's school.  I thought it might be nice to link some of these things together, so we can find each other and so our readers can find new things.  And it might help us all to have a theme to blog on and give us ideas!
The three ways I've thought of are a weekly meme, a monthly carnival or guest posting.
For a weekly meme such as Terrific Teaching Tuesday there is no pressure, you just slot it into your posting schedule when it fits.  You can have a sidebar button if you want, and add a link to the bottom of your post to lead back here where I'll have a linky.  The idea is to have a central list and people can visit as many of them as they want, obviously it is nice to check out your fellow participants.  It is up to you how often you participate, and there are no rules about the post subject – I have the broadest possible interpretation of teaching!  Some ideas are:
A how-to craft tutorial.
Something about schools.
A story about how you learnt something.
An activity you've done with your kids where they or you learnt something.
Questioning how you might teach something in the future or what you want your kids to learn.
Something you are glad you've learnt.
People with special needs.
A carnival would be less time pressure because it is monthly or even bi-monthly, but posts would have to be submitted before hand.  Then every post would go live with all of the links on the bottom.  It would also have a theme, decided upon by the group mainly involved, but within that theme there would be lots of freedom.
Guest posting is more personal, I'm happy to have guest posts here and would love to be involved with other people's blogs.  For here, I would expect there to be at least a little nod to science to make it distinctive, but again I have the broadest possible interpretation.  So if language is your thing, you could talk about descriptive language.  If it's play, then sand play or water play are fantastic.  And since I've given up my other parenting blog and miss it a bit, I'm happy to write about all sorts of things on other people's blogs!
So they're my latest ideas of creating a bit of community and links between blogs.  I'm posting here and will be harrassing people on Twitter and Facebook or those I know of who might be interested.  Please spread the idea around and discuss it, either in the comments section or email me at deb AT science-at-home.org.  I think it would be both fun and helpful, for both bloggers and readers, so I hope I'm not just here with the crickets chirping
Enjoy this article? Subscribe to the weekly newsletter to hear about them all.
Or grab my RSS feed