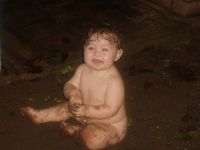 Kids love playing in mud – it's what they're supposed to do.  Babies love the feel of different textures to squish and squeeze.  But it doesn't always fit in with our lives, and sometimes there's just no mud to be had.  So here are some substitutes that are Mummy and baby friendly:
Oatmeal – Mix some up with boiling water and let it cool.  Great to squish through the fingers.
Slime – A simple cornflour/water slime is easy to mix up.  Use real cornflour and it is stir-thickening, that means it is liquid if you are slow and gentle but gets thicker if you squeeze it or try to mix it quickly.
Flour/water paste – About a tablespoon of flour with some boiling water, how much depends on how thick you want it.  Makes a fantastic glue or fascinating finger paint with some food colouring.
Shaving cream – A favourite for the side of the house or themselves.  Great if you have some powdered paint to mix in, or put a drop of food colouring on top then squish it through your fist.
Poster paint – The lovely thick stuff.  Either paint onto paper or smear it around on a table then press paper onto the top.
Playdough – just straight playdough is fun to use with tools like garlic presses or cookie cutters, or add some rice, pasta or glitter for a sensory playdough.
Cooked pasta – or rather overcooked until it's nice and gluggy.  Spaghetti broken into little pieces is great to squish, or long pieces that are a bit harder can be dragged through paint for a great effect.  Older kids with good manual dexterity can even use them to stamp wiggly lines or spirals then gently lift them again.
Dry pasta – Use spirals, shells or farfalle (bowties) with paint.  You can use them as stamps, roll them through paint, or hold them as brushes.
Gelatine – Make up some gelatine but don't set it completely.  Little ones can squish and splash, older ones can use it for marbling – float paint on top and swirl it around with a toothpick then lay your paper down on it.
Glitter glue – very cheap from $2 shops, or make your own with flour paste.  It's a nice change from finger painting because it has the glitter texture in there as well.
Nuts and seed pods – Collect lots of different nuts, seed pods, leaves and twigs from your garden or park.  Then use them like paint brushes or like the dry pasta.
Rice – dry rice is a lovely indoor substitute for a sandpit, add a bit of food colouring in a plastic bag and shake it to make easy coloured rice.
Wood shavings – Easy for people with a handyman in the family, or you can sharpen all the pencils and keep the sharpenings.  They are fun because they are remarkably light but you can still put your hands in and stir them around.  They are great to glue on collages as well, giving a very different texture.
What sorts of messy, gluggy things do you play with? This post is part of the We Play linkup at Childhood 101.
Get the Thursday Thirteen code here!
The purpose of the meme is to get to know everyone who participates a little bit better every Thursday. Visiting fellow Thirteeners is encouraged! If you participate, leave the link to your Thirteen in others' comments. It's easy, and fun!
Trackbacks, pings, comment links accepted!
View More Thursday Thirteen Participants
Enjoy this article? Subscribe to the weekly newsletter to hear about them all.
Or grab my RSS feed