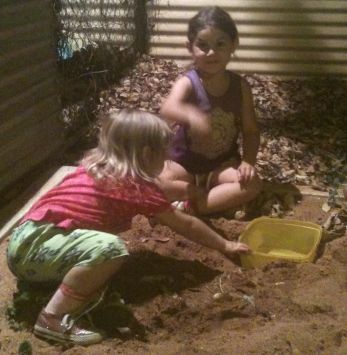 Hat tip to Marita, Ash and Carly for this, when I asked Twitter yesterday what I should write about they suggested mud, photos for iHappy and the water cycle.  And it just so happens that I was thinking it's a long time since I've put a video up, and I have a just turned 5 year old drama queen who has been explaining the water cycle to random strangers for a year or so.
It's a pretty good explanation, there was no setup here it's all hers.  She knows the water cycle well because we live in a semi-arid area with wet and dry seasons, so she's grown up with floodways, dams and even rivers that fill and dry up quickly.   We get to watch the big clouds roll over and the rain pelt down, then see the puddles dry.  And we know where the town water tanks are and have explained how we get our water when there are no lakes or rivers around.  We also spend a lot of time playing with water and the sandpit!
Do you take the chance  to watch the weather?
Enjoy this article? Subscribe to the weekly newsletter to hear about them all.
Or grab my RSS feed