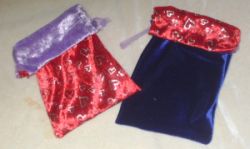 This is the fifth in my Christmas Presents for or from Science Geeks series, the previous ones can be found here.
This is a present I was aiming at babies and then we made it.  And spent a fair while playing with it ourselves, so now I can safely say it can be used by lots of different age groups.  It's a very simple idea of a box or bag to hide things in and a selection of things to hide.  Players reach in and try to identify whatever is in there by touch alone.
Babies
Explore with their sense of touch and compare the feel of different things.
Get things out and put them back!
A never-ending ribbon – tie lots of ribbons or fabrics together and coil it up, there is a sense of adventure and surprise when it keeps coming.
Fabric books – get several fabrics with different textures and sew them together as shown here.
Toddlers
More getting out and putting in.
Treasure box to hold their current favourites.
Magic to pull something unexpected out.
Language development as they pull something out and name it (Pony!) or describe it without looking.
Older kids
Trying to identify items without looking makes them think.
Language for rich descriptions – rough, small, hard.
Collaboration as they can run the game for smaller siblings.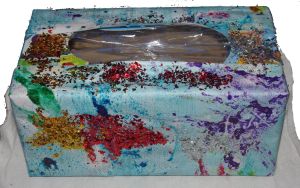 What makes this a lovely present is it can be made by an older sibling for a little one – I remember the big girl proudly decorating a tissue box with stickers for her little sister when they were much smaller.  We did something similar this week using glitter and some paper she'd already painted to cover it.  In the past I've made little reversible bags out of nice fabric (top), used gift bags or cut a hole in the lid of an icecream container.  Of course if you are really creative you could make it permanently out of wood, but for me it's important for my kids to start making and giving presents because that's the fun of Christmas!
This post is part of the We Play linkup at Childhood 101.
Enjoy this article? Subscribe to the weekly newsletter to hear about them all.
Or grab my RSS feed