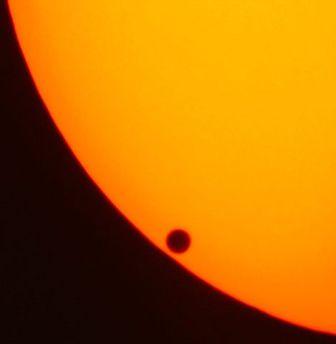 Photo of the 2004 transit by Jan Herold.
If your social media feeds are anything like mine, they are currently going crazy about the transit of Venus. I have emails, tweets, updates and more tweets reminding me that it's the last time this century we'll get to see it. So for those of you for whom this blog is your sole science reminder, I'm adding my 2c worth.
What
A transit of Venus is when Venus passes between us and the Sun. It is similar to an eclipse except the distance between the Earth and Venus makes it appear as a tiny dot travelling across the Sun. It's a great way to get an idea of the relative size of the sun, given that Venus is roughly the same size as Earth.
When
Because Venus orbits inside Earth's orbit, they line up relatively frequently. But usually Venus is above or below the plane of the Earth so we don't see it. Transits occur in pairs 8 years apart, with long gaps over 100 years in between. There was a transit in 2004 and the next one won't be until 2117, so this is almost certainly your last chance to see it.
It will be on June 5th/6th and the exact time depends on your location. In central Australia it starts at 7:45am and goes until 2:15pm, so there's plenty of time to catch it. To find the times at your location, use this handy calculator.
Where
Most of the world is going to get some chance to see it, although not everyone will see the whole thing. This map tells you what you'll see in your area.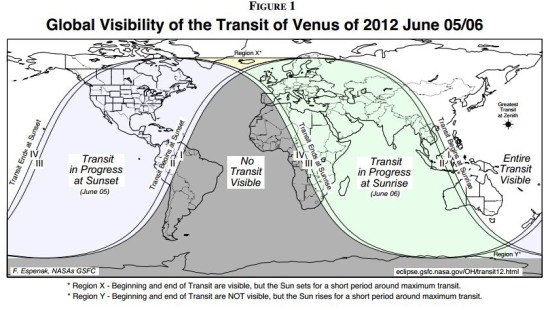 How
DO NOT LOOK DIRECTLY AT THE SUN. You will burn your eyes and you won't see anything anyway. View the transit in the same way as you would an eclipse, using a telescope, binoculars or pinhole camera to project the sun onto a screen. This is our setup:
You can do the same using binoculars or even a couple of pieces of card.
Why
It's interesting and unusual! Scientists are observing the transit for all sorts of reasons, by seeing how a known planet behaves crossing a known star it will help us detect and study exoplanets. It will also help us study Venus' atmosphere and climatology, and it can help us calculate the distance from the earth to the sun.
This is important historically to Australians. Captain Cook was sent to Tahiti to observe the 1769 transit, and then search for the Great South Land. He was far from the first, or even the first European, to discover Australia, but his was the first organised expedition and led to British colonisation.
Extras
Depending on clouds I'll be posting photos throughout the day here and Facebook and tweeting them through Instagram. Join in for my first live tweet science event 😀
Enjoy this article? Subscribe to the weekly newsletter to hear about them all.
Or grab my RSS feed