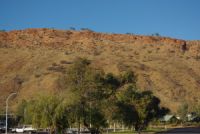 Do you have a travel box or bag?  Something you can take with you whenever you go out or are travelling so you know your kids will have something to do even if your destination isn't child friendly?  I know part of this is just how my mind works, but I find a lot of science activities lend themselves to travelling because they don't need lots of bits and pieces or space, just something to observe and maybe make a change.  If kids are going to a different environment it's great to give them a reason to observe and think about the differences to what they are used to.
Our kit changes regularly as the girls get older and their tastes change, but these are some of the enduring ones they still play with:
Books, books and more books.  Even for pre-readers, little board books are a hit.
A5 size hard cover book to draw in and pencils.  It's a good size for the car, plane or to fit in a bag and pencils can't stain things or lose their lids.
Things to transfer from one container to another.  Plastic containers with wide screw top lids are perfect, as are little drawstring bags and purses depending on the age.  Things to transfer include counters, toy money (or real money), business cards, large beads or small dolls like Duplo or Little People.
Wraps or flat cloth nappies.  For peekaboo, blankets, wiping up spills, sitting on, wrapping dolls and so much more.
Music.
Language games.  This is a newish one, we started with Eye Spy using colours, then Words that Sound the Same, just this week we started playing Opposites.  Although given how quickly the big girl worked that one out, I can see we'll be on to synonyms very soon!

Some science-y ideas to do when you get there that don't require much equipment:
Make a collection to take home, it could be rocks, shells, seeds or leaves.  Then you can sort and compare them to your own backyard. The containers or bags from the travelling kit are perfect.
Take photos of where you are, an adult can do the photography or many kids are very capable with digital cameras.
A field journal so you can draw pictures of where you are and write descriptions of things you can't collect like the weather, soil and animals.
Pretend you are explorers on an expedition looking for a rare new animal and finding out as much as you can about its habitat and behaviour.
If you are going somewhere with different weather, use that as a basis for imaginative play – at the moment we are Antarctic explorers 😀
See if the mud in this new place is different to the mud at home.
If you are around cars or shops with big windows, look for reflections.  You can laugh over how they are distorted or search for things in the scene around you, and babies love talking to the people in the mirror.
Put babies down on the ground or on a mat so they can explore where they are.
Get on the play equipment!  Playgrounds are every parent and science teacher's friend, even if you don't say anything their bodies are learning.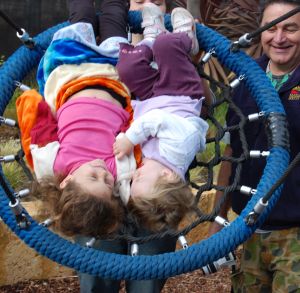 What do you do when you are out and about?
Enjoy this article? Subscribe to the weekly newsletter to hear about them all.
Or grab my RSS feed