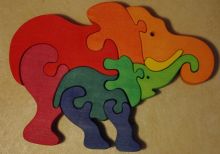 Jigsaws are brilliant toys for little kids and babies.  While I'm a great believer in inventive toys and playing with things around you, I consider jigsaws one of the essential toys that you really should have.  Having said that, they don't have to be fancy.  The first jigsaw our daughter ever played with was a beer coaster at a pub, while waiting for our meals to arrive we ripped it into 4 and helped her put it back together again.  We even got really inventive and used two coasters, one black and one gold, and tried to get her to put the right pieces together.  As the wait got longer we progressed from halves, to quarters, to ninths, to pretty coloured patterns.  People around us donated their coasters and had a ball watching her, I think she was about one.
Jigsaws are important toys because they teach about matching and recognition and rely on the ability to build something up from pieces.  They require persistance, memory, recognition of patterns and shapes and willingness to keep trying and physically they help develop co-ordination and precision.  You can start with one-piece puzzles for littlies then try 4-6 pieces and up to 24 pieces.  Even in the coaster example we used the two completely different strategies for solving jigsaws – matching pictures and matching shapes.  Most babies start by matching pictures then progress to shapes, and for some reason they stay there.  Even older kids will jam pieces together that obviously don't make a picture but fit.  An easy way to help them learn is to make your own, choose a favourite picture or even a word and put it on stiff card then cut it out.  If you want them to concentrate on the picture or word, cut so that several would fit together and they have to decide which one.
And of course they teach about 'content' as well.  By that I mean that they can help school kids learn spelling or calculations, or babies learn shapes and colours, or match adult and baby animals, or body parts, or just about anything you can think of.
Here are just a few of the jigsaws we are currently playing with:
One piece puzzles let them  learn about shapes and objects, in this case animals and transport.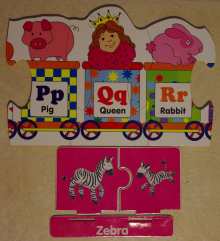 The big girl is loving these at the moment, there are lots of clues she can use to put them together and she feels she's recognising the words.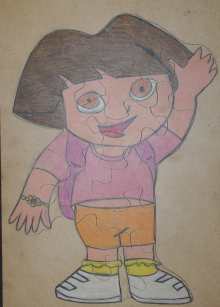 This one has lots of pieces and the added bonus of being made by Daddy.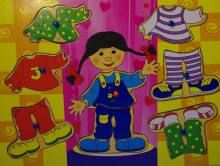 This is a one-piece puzzle but they can mix and match the different outfits, so they are learning a bit about colours and design as well.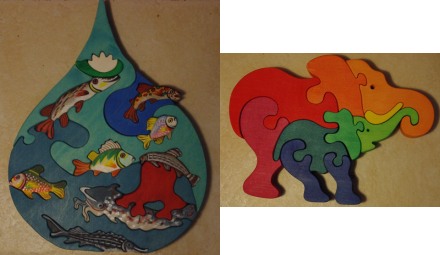 I love these puzzles, they are big and chunky, and the elephants have so much you can talk about – elephants, Mummy and baby, and colours.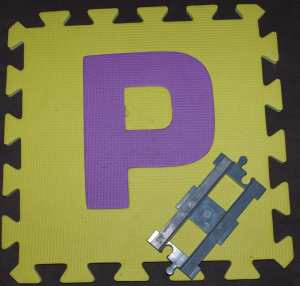 There are a lot of things that work like jigsaw puzzles as well – we have a lot of foam tiles and train tracks, plus some models and construction kits.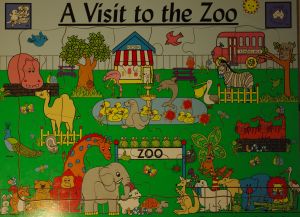 This puzzle is great for content learning.  You can talk about:
Animals and where they come from originally.
Habitats and the sorts of places animals live.
Counting.
Matching types of animals eg birds, cats, …
What else?
Enjoy this article? Subscribe to the weekly newsletter to hear about them all.
Or grab my RSS feed