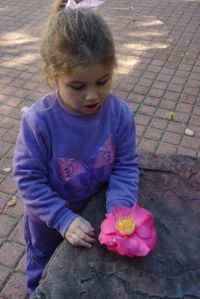 On our trip to Perth we visited the main WA Museum, so this is partly a specific review and partly some ideas about how to get the most out of a visit to your local museum.  The first is obvious – go when your kids are well fed and rested!  We found it unavoidable because of holiday scheduling, but we knew it would be a short visit and they still had a good time.
Forget what they are 'supposed' to be interested in.
Just because it's a display about geology doesn't mean little kids will be interested in that aspect, and I'm firmly in the camp that the most important thing is for them to enjoy the visit.  So go with what they want to do.  Our first activity was to climb all over said geology display and find beautiful flowers from the garden to decorate it with, as shown in the above photo.  But along the way the big girl did notice differences in the rocks and interesting features, and what more could you want from a 4 year old?
Choose a small section you want to see.
Don't try to do too much.  The WA museum covers both science and WA history, so we knew we were only going to see part of it.  This is easy to accept because entry is free with a $2 donation encouraged, so there is no pressure to get your money's worth.  They have a paid exhibition on at the moment about Pompeii which would be fascinating, but not for a two year old.  So we spent some time in the Discovery Centre, then moved up to the geology/palaeontology section.
Go for the hands on.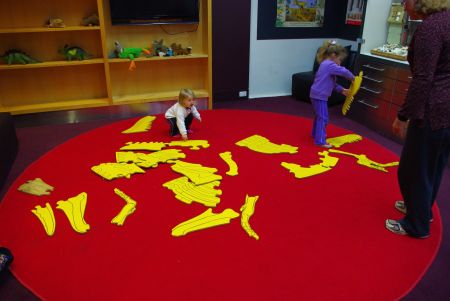 Most museums have a section you can get into and play with.  The big girl and I spent a fascinating hour in the Powerhouse Museum playing with electricity and magnets, and the NT Art Gallery and Museum generally has microscopes and puzzles on the go.  At the WA Museum the giant wooden Tyrannosaurus Rex floor puzzle was a hit, as were the puppets (in the background) and patting the birds.

There were live reptiles and frogs, as well as hundreds of drawers of everything from insects to fish to historical shoes.  The girls enjoyed pulling out the drawers to see what was in them, a bit like a lucky dip, but overall there was a lot of looking rather than doing.  It would be brilliant for schoolkids doing a project with very clear explanations, but not so much for younger ones.  Although it was hard to convince the little girl to leave the frog puppet there!
Go at their pace and follow their interests.
Some sections I would have loved to spend more time in, but if the kids are moving quickly, keep up!  There is a great geology section with examples of tektites (tiny glass droplets caused by meteorites) and all sorts of minerals from WA, including diamonds 🙂  I loved the way it was put together to show that the same minerals could come in different forms, and I was surprised the big girl wasn't too interested – she likes being able to push buttons rather than just look.  The fossils were a big hit with a nod to the dinosaurs, but the most interest was in the things they understood a bit better.  So the head shields from armoured fish, diprotodons and giant kangaroos were popular.  They aren't the same as anything they've seen but are close enough they can imagine what they would have been like, which was far more interesting than something unfamiliar.  It's a great learning principal to start with the known and extend to the unknown, so keep in mind if you are visiting a museum to find some displays your kids will be able to relate to rather than something completely new.  Or if you are going to a special exhibition, find out a bit about it first so it is a little familiar to them.
Overall we had a great time by following their lead and not trying to set our own agenda.  I would like the opportunity to go back and take things in in lots of small chunks, especially as it's a free outing, but I'd consider becoming a friend of the museum if we lived in Perth.  The more often you go back, the more things will move from the unknown to the known, so kids will spend time looking at different displays as they become familiar.  It's also a resource to keep in mind for older kids doing school projects, with both the history and science sections.  It's definitely a change from the internet and will give kids a different experience.
Have you taken your kids to a museum?  What are your experiences?
Enjoy this article? Subscribe to the weekly newsletter to hear about them all.
Or grab my RSS feed