Welcome to the June Carnival of Natural Parenting: Outdoor fun
This post was written for inclusion in the monthly Carnival of Natural Parenting hosted by Hobo Mama and Code Name: Mama. This month our participants have shared their stories and tips for playing outside with kids. Please read to the end to find a list of links to the other carnival participants.
***
We spend hours outdoors.  Our house is actually a converted shed, but it makes up for it by having an enormous undercover play area at the back.  But one thing I'm not good at is gardening, so to make it interesting I've turned it into a really cool science experiment.  My little ones were just fascinated to see it happening, but there are extensions you can do with older kids.
Basically what we are doing is sprouting peas, but putting them between the side of a jar and a layer of paper means you can see them.  Have a look at this video to see how the toddler and pre-schooler worked together to get them ready:
We used ordinary kitchen towels, if you can get the slightly tougher hand towels they are a bit easier because they don't squash as much.  After that, water them and leave them in a warm sunny area.  Because of the neck on the jar and getting rained on, these actually turned into miniature terrariums and have worked brilliantly.

The roots sprouted first.  Do you think this is normal for plants?  Why do you think the roots sprout out first?  Which way is the root growing?


Then the stem starts sprouting.  It's already green here, but that's because it is getting light through the glass.  Usually it wouldn't be green until it reaches the surface.  Where is it sprouting from?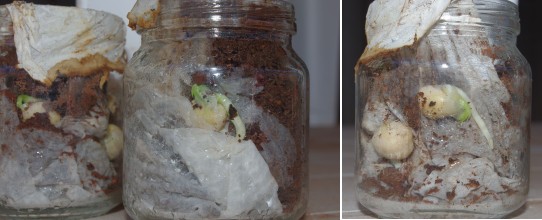 These are already starting to form their first leaves.  Which way is the stem growing?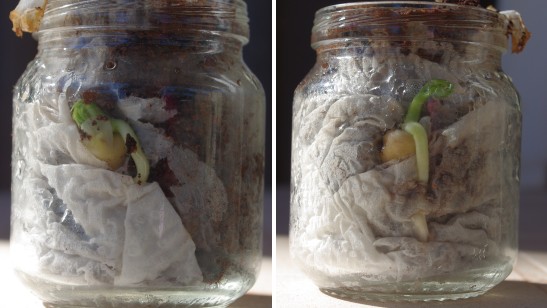 And here they are ready to plant.  They have a lovely trellis waiting for them where they will provide some shade for our brand new bird aviary.  I love eating peas straight from the pod!  There are so many things to engage kids here, even if they have black thumbs like mine:
The original planting.
Being able to see them every day and check how they're going.
The final planting in the ground and getting nice and dirty.
Being able to pick and eat them from the plant.
Having a purpose in shading the birds.
We love just mucking about outside, but sometimes having a purpose is good too.  And being able to contribute to our future play space and activities is icing on the cake.
Extension for older kids:
Use beans, especially ones like broad beans where you can see the spot they should sprout from.  Plant three beans facing three different ways, so up, down and sideways.  Sprout them and see what happens to the root and stem.
But most of all, have fun outside!
***

Visit Hobo Mama and Code Name: Mama to find out how you can participate in the next Carnival of Natural Parenting!
Please take time to read the submissions by the other carnival participants:
Enjoy this article? Subscribe to the weekly newsletter to hear about them all.
Or grab my RSS feed