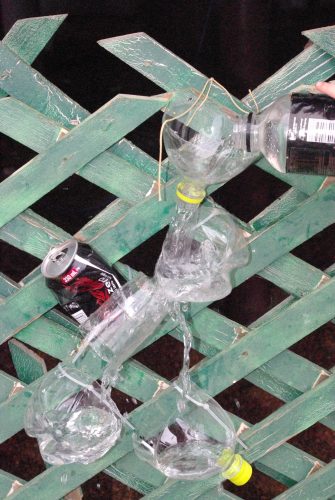 I got this idea from the lovely Let the Children Play, a preschool I would love to send my kids to. We've been waiting for the weather to dry out a bit so we could get out there and this week we've started.
This is definitely an on-going project, it's quite fiddly to try to attach things and the little one doesn't have the patience or fine motor skills to really help.If I were doing this purely with preschoolers or younger I would make it by myself and just let them play with it.  The big girl (5) is having a great time directing and helping set it up. She especially likes putting the water in and deciding where we need to put the next piece!
She's capable of cutting the bottles up if I get them started and we're using cable ties to attach everything to a lattice, so she's helping thread them and pull them tight. It would be easier to nail or bolt everything, but I'm trying to do it with her and I'm not very good at drilling.
I would love to have something that tips when it fills up, my challenge is to get that working. I know it needs to have a pivot down low and be weighted, but attaching it is going to be tricky. I've made water wheels before so we'll get one of those in, I'm just trying to think of a way to make it more permanent. I might need to take some of the sandpit toys apart!
And if you're horrified at the number of bottles we seem to have, please remember the whole living in the middle of nowhere thing 🙂 We don't have recycling out here so I keep all plastic bottles ready for when inspiration strikes. Most of them are in the fridge filled with water at any given time, and when they build up I'm allowed to chop some up.
Learning?
What aren't they learning with this one –
Gravity
Liquids
Predicting
Questioning
Planning
Persistence
Problem solving
Collaboration
Gross motor skills (climbing up and down on that chair!)
Fine motor skills
And it's just plain fun.
This post is part of the We Play linkup at Childhood 101.
Enjoy this article? Subscribe to the weekly newsletter to hear about them all.
Or grab my RSS feed