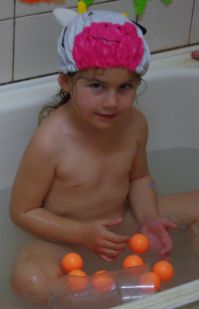 This post is part of the Childhood 101 We Play linkup.  We are huge fans of homemade toys, although that doesn't stop us having far too many of the shop bought ones as well!  And the simpler the toy, the more kids get to think about what to do with it, rather than doing what it tells them to.  For the last week our best bath toys were a packet of ping pong balls and an old bottle.
The girls have been having a great time with the balls, watching them float, moving the water to move the balls in the current, pulling them under then letting them bob back up and throwing them down into the water.  They remembered some of the games from playing in the pool earlier in the year and had fun trying them again inside.
And then the old bottle wasn't just a bottle with the top cut off – it also had holes punched in the bottom!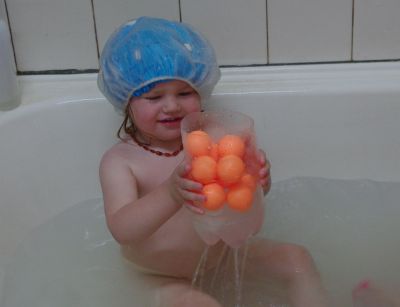 And did you know ping pong balls are exactly the right size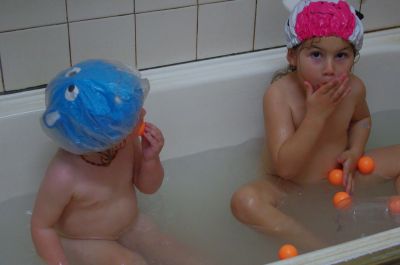 to fit in your mouth
and shoot!  Their aim is actually quite good.
What sort of simple toys do you make at home?
Enjoy this article? Subscribe to the weekly newsletter to hear about them all.
Or grab my RSS feed