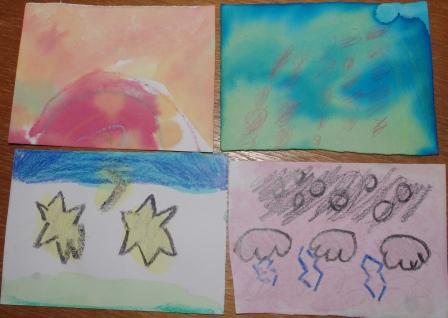 Last week during the school holidays it suddenly turned to winter, complete with thick jumpers and woolly socks. One of the games we played a lot of that both girls enjoyed was Go Fish. In case anyone doesn't know this one, you have cards in your hand and have to try to make pairs by asking the next person if they have one. If they do, they have to give it to you. If they don't, they tell you to fish and you have to pick up one from the middle pile.
It's a great language game if you play with novelty cards – you have to describe the card you are after so everyone can understand, so you get lovely sentences like 'One with a pink border and the rainbow fish giving another little fish a scale.' And there's a little bit of strategy both girls worked out in listening to other people asking so you know what they have in their hand. Plus of course all the usual playing together, turns and good sportsmanship.
I decided to combine the two biggest events of our week and make some weather cards to play with.
It was great fun going through all the different types of weather, and then the question of how to represent them. "How are you going to do the wind card?" I heroically kept my mouth shut and didn't give any suggestions and the big girl came up with this: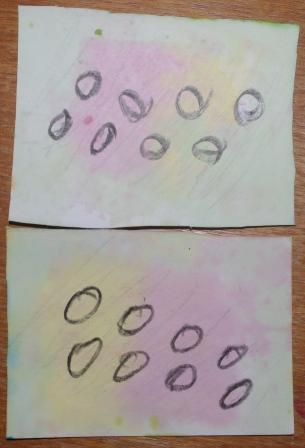 Apparently they are leaves being blown along and the faint lines are to show the movement. The colours are because she was having fun with the paint.
We folded and cut the cards and drew with crayon, then painted over with a bit of food colouring in water using cotton balls. You can see up the top the different levels of drawing, but the little girl's is still recognisably rain. The big girl experimented with dipping the cotton into different colours then laying it over the card.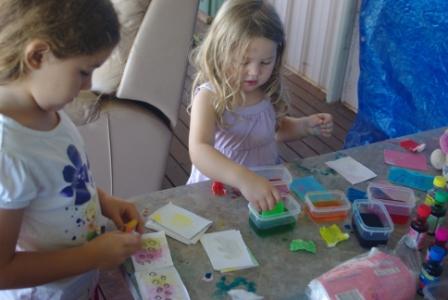 I mentioned making pairs so we could play with them and little girl branched out into day and night: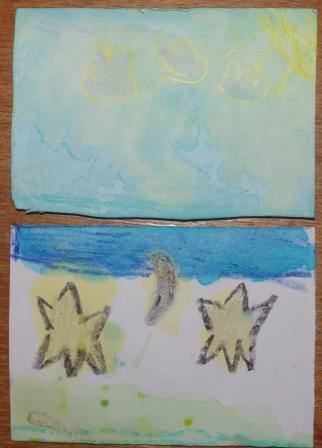 I'm certainly not complaining if she wants to go exploring in her own direction 🙂 It was an activity that keeps on giving – we talked a lot about different weather, had fun making the cards, and now we can play with them.
Enjoy this article? Subscribe to the weekly newsletter to hear about them all.
Or grab my RSS feed