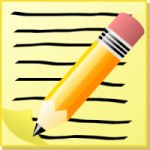 I've just missed my first anniversary at Science@home (honest, I thought it was in July), there go my plans for a big birthday bash.  I'm sure I'll find something else to celebrate in a few weeks when I get back from our holiday.  In the meantime, I want to take this opportunity to pick your brains, in the nicest possible way, and get a handle on how Science@home is doing and where you want it to go from here.  I'm a great believer in taking stock and planning a direction.
So I have an informal survey.  I considered putting in a form or survey link, but after much thought I decided to do it this way and give you the option of commenting publicly or using the contact form at the bottom to tell me privately.  This way it is more of a conversation and brainstorm, bouncing ideas around together, rather than a test!  Consider the questions as prompts, although of course you are welcome to answer them all 😀
What age group are your kids in (or even your grandkids)?
Are you here for fun or as a teacher/homeschooler?
How did you find Science@home?
Are you a subscriber or regular visitor or are you just dropping in for a quick visit? (If so, I hope you found what you were looking for.)
What type of activity do you like doing yourself?
Which type of post do you like the best?  The main ones are activities, general information and science, lists, (found in the three coloured boxes in the sidebar or up the top) and photos (search for Wordless Wednesday).
Is there a different type of post you would like to see?
Do you or your children have any specific questions I can help you with 🙂
Any comments on the site design and ease of navigation?
If you get the weekly email newsletter, do you like the way it is organised with introductions to the posts then you can visit the ones you like?
What do you think of the posting schedule?  Too much / too little / just right?
I have some more scientist interviews coming up, including Ian Frazer, Fiona Stanley (Woohoo!) and possibly Tim Flannery, do you have a suggested scientist you would like me to stalk?
Would you be interested in guest posting or swapping guest posts?
Thanks for playing with me, I'd love to have your input into how Science@home develops.  It literally wouldn't exist if I didn't get feedback from lovely readers.  Feel free to keep it private or put it out there, I can take it! (Hey, I'm on holidays :D)
Enjoy this article? Subscribe to the weekly newsletter to hear about them all.
Or grab my RSS feed