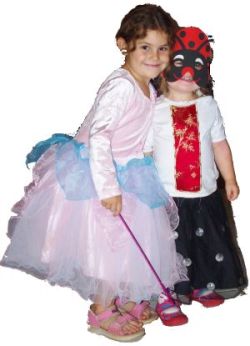 Clothes!  One of the first things little kids do for themselves on their way to being all grown up.  I'm an absolute sucker for the toddler who's obviously dressed themselves, especially if it looks like the dressup box has been involved too.  And let's not forget the excitement of the very first school uniform.  Where we live I've never really been bothered by a refusal to wear clothes, but it has caused problems on holidays – I still remember the continuous hysterical screaming of the toddler who refused mittens in the snow that magically stopped when we wrestled and ungently shoved her hands into a pair of socks.  Then the search for a pair of gloves small enough because she absolutely wasn't wearing those mittens.
So yes, kids experiment with their clothes, and hopefully learn that clothes made of different materials are appropriate for different uses.  (That's where the science comes in.)
Gumboots – I refuse to believe that giving my daughters gumboots for Christmas is linked in any way to the completely unseasonable and over the top rainfall we're having.
Workboots – the other day Mummy tripped and a rusty nail went straight through her shoe and into her foot.  A tetanus booster later and I wear my boots everywhere, I love my blundies.
Sandals – with velcro closures they are the shoe of choice for independent toddlers.  Also good when the rocks are just too bad to walk on.
Jumpers – My two still don't seem to have twigged that the thick fluffy material means it's warm.  They're almost in the category of 'dressups.'
Gloves – For a few weeks we became connoisseurs of gloves, with knitted ones, fleece ones, fluffy ones and leather ones.
Winter hats – another one we learnt about quickly.
Bathers – these we know well, sunsmart only please.
Sunhats – another Christmas present and birthday staple.  Nice light cotton with stabiliser in the brim works well.
Party dresses – Daddy was looking after the girls for a couple of hours and they ended up with matching little-girl-ultimate party dresses.  They have ribbons, they have crystals, they have silver embroidery, shiny material and chiffon.  They are in love.
Uniforms – with all the advantages of, well, uniformity.  This year the school has chosen a wrinkle resistant dry and wear material, very practical but very sweaty.
T-shirts – soft and stretchy because they don't have closures.
Art smocks – always good with a waterproof layer to stop the paint soaking through.  But it's also fun to take the scissors to one of Daddy's old shirts.
Raincoats – We don't tend to use these much because the heat means they are as wet inside as outside, but waterproof material comes to the rescue again!
Do your kids experiment with their clothes?  Have they worked out the connections between what we wear and what we are doing?
Enjoy this article? Subscribe to the weekly newsletter to hear about them all.
Or grab my RSS feed