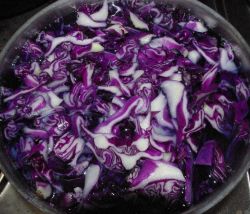 Red cabbage of course.
Red cabbage is beloved of science teachers the world over because it is incredibly simple to boil it up and make red cabbage indicator to test acids and bases. The beauty is not just the bright colours, but it actually reacts differently to each. Many natural indicators such as tea will change for one pH level, but red cabbage covers all the rainbow.
The chemicals that react to the acids and bases are generally reds, blues and purples so things like beetroot, blueberries and mulberries also work. Even rose petals and turmeric, although that's bright yellow! The only downside is that I now have a pot of overboiled cabbage to get rid of, and I have a tendency to forget and burn the saucepans.
It's so simple, you just chop it and boil it up,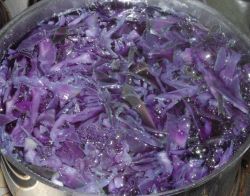 and you have a big pot of purple blue indicator.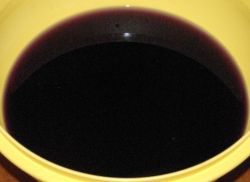 Then you can start testing all sorts of things from around the house. Here we have vinegar, orange juice, soda water, cleaners, soap, laundry powder, sodium peroxide and probably others. It was quite funny, the little girl wasn't all that interested – she's played with coloured water lots of times –  until I got the first one to turn pink!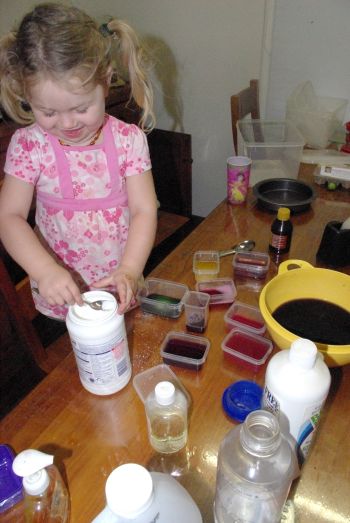 Our rainbow of results. Including the foaming one where I added vinegar to the laundry detergent to see if I could get it back to red. Now the rest of the indicator is sitting in yet another cool drink bottle (that my husband has asked me to clearly label so he doesn't accidentally drink it) waiting for the weekend, when we can find even more chemicals to test and mix together.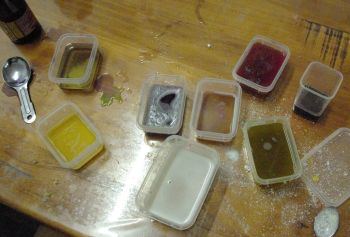 You should try it – you don't need anything special just some little containers, bottles from around the house, mix them together and off you go. Do you think food colouring would act as an indicator? Or what else from the pantry?
Enjoy this article? Subscribe to the weekly newsletter to hear about them all.
Or grab my RSS feed