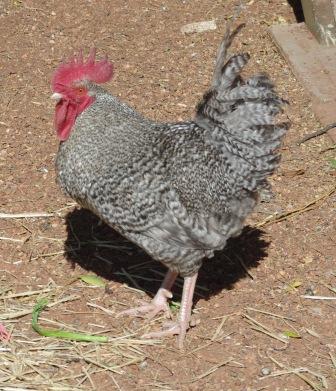 I put up lots of photos when our chickens were little and cute, then it stopped. Unfortunately it wasn't because they weren't cute anymore but because we had a series of dog attacks and lost most of them, including our gorgeous cockerel Dinner.
We got some more from the school, and these are all mixed breeds of some sort or another. The new cockerel, Lunch, is just as gorgeous but completely different.
And here he is with one of his girls, Bubby Lily.
The little black chook is called that and probably has Australorp in her, she was the first to start laying beautiful little brown eggs.
Jewel is a pretty little grey chook, except it's apparently called lavender.
And this is Frizz, named for her frizzy crest. Frizz and Jewel have at least some Araucana in them, which is where the frizz comes from. And the exciting thing about Araucanas is their blue eggs.
They are both laying lovely little blue eggs, shown here next to one of our older chickens' eggs. And the ones we've checked are fertile as far as I can tell, so we'll be excited to see what comes out of the incubator!
Enjoy this article? Subscribe to the weekly newsletter to hear about them all.
Or grab my RSS feed