We already seem to have every tradesman in town working for us to get our house renovations done, so the kitchen has become our job.  From the original design and much emailing and phoning, to trucks, trains and finally our ute and trailer, it arrived on Monday night.  It's holidays and I got both girls into daycare on Tuesday, so this is what we did all day.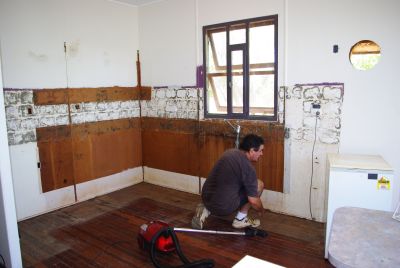 We had already stripped out the old kitchen, including each tiny eggshell piece of tile.

This is it, the kitchen minus the oven and dishwasher (Yay!).  It was beautifully packed but too heavy in one load so we had to split it over the ute and trailer.  Have I mentioned it's an elevated house and it all needed to be carried upstairs?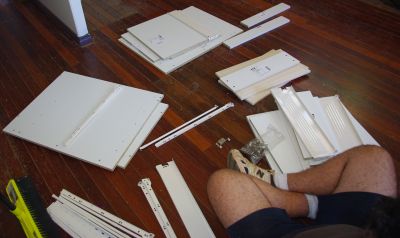 The pieces for just one set of drawers.  We are very lucky we have all sorts of tradesmen floating around – one of them explained how it all goes together!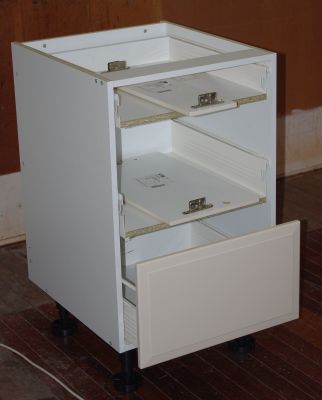 We put one together to work out how it should go.  Then it was lunchtime.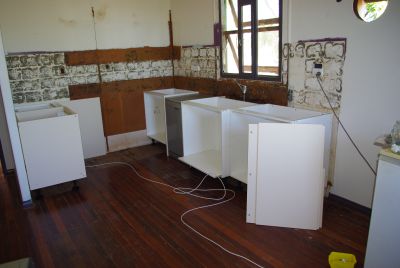 Ater we'd worked it out it was fairly simple to put together the carcasses (seriously, that's what they're called).
We needed to get that done so the plumber can get in today and know where it's all going.  Today will be fiddly with levelling everything and getting it square, putting in the panels, attaching it to the walls, adding the kickboards, cutting out the holes in the benchtop for the sink and stove, attaching the benchtops, assembling and hanging another cupboard on the wall, putting together seven more drawers, hanging four cupboard doors and getting 21 handles in exactly the right place.  At least the girls are back at childcare on Thursday!  If you are ever doing a flatpack kitchen and don't have to worry about transport, get it pre-assembled.
I know there is a lot science in construction, but I'm too tired to work it all out.  How about you help me (and show how much you've learned this year :D).
Enjoy this article? Subscribe to the weekly newsletter to hear about them all.
Or grab my RSS feed