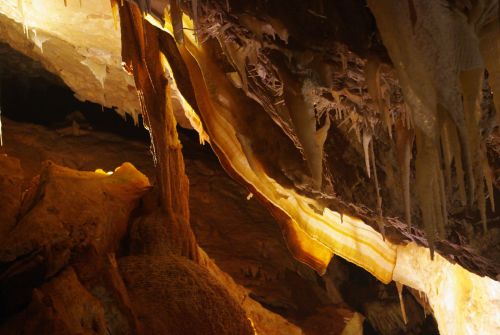 This photo is in Ngilgi cave near Yallingup in the south-west of WA.  [Ngilgi is Aboriginal, the ng at the beginning is pronounced the same way we would in long, but if you can't handle that say it Nilgi.  The g is hard.] I have great memories of this cave as a kid, it was fun to take my own children there and see how it has changed.  In the photo you can see shawls (the bacon type things 🙂 ), stalactites, straws and helictites.  Straws are how stalactites get started, as a long thin tube.  Helictites are twisted and are possibly formed by the way water evaporates and draws other drops along.
Go to my Facebook Photos for Guess What?  This is a game with a cropped section of a photo relating to today's photo, the full photo will be posted tomorrow.  This week's prize is a 3D wooden dinosaur skeleton.
Enjoy this article? Subscribe to the weekly newsletter to hear about them all.
Or grab my RSS feed