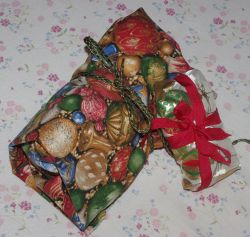 Welcome to the November Teach/Learn Blogging Carnival.
The Teach/Learn Blogging Carnival hosted by Science@home is for anyone, because we are all teachers and learners all the time. This month our theme is "Technology and Design". This is about being able to design or make something to solve a problem. Check out the links at the bottom to find some other great posts on T&D.
***
I'm already doing a series on making Christmas presents for little geeks every Friday so I wanted to look at something a bit different for Teach/Learn. Tech and Design usually means making something but it doesn't have to, it can mean designing a system or plan as well.  I thought of putting together the plan of how we are trying to get our new house ready for the guests coming to stay at Christmas, but there isn't really a plan for that – it's mostly about chasing tradesmen!  So instead I'm going through the design process of our Christmas wrappings.
Design Brief:
I love wrapping presents and having them all under the tree for the big exchange on Christmas morning.  In fact that used to be my job and I have started doing it with my girls as one of our family traditions.  In our family presents aren't hidden and only little bits come from Father Christmas, the main event is having them all decoratively waiting under the tree.  But it makes me a little twitchy buying wrapping paper that is just ripped off and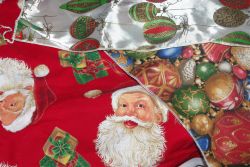 thrown out, and half of it is not really my style.  We make some wrapping paper ourselves to give to other people, but to make all of it is beyond the girls and still has all that paper turning into rubbish.  I have tried to recycle wrapping paper but it doesn't usually last very long, so I need something to wrap with that:
Is pretty.
Is environmentally friendly.
Little ones can cope with without ripping or sticking everything.
The Solution: Material and ribbons instead of paper.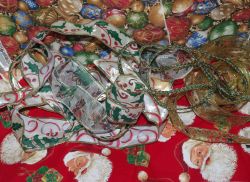 I bought some pretty Christmas material and cut it fairly large, then overlocked around the edges to stop it fraying.  To wrap things the girls help me fold them up in the material and we tie ribbons to keep it all closed.  Then on Christmas Day it's all collected and put away with the rest of the decorations.  It's tough enough to cope with 2 year old co-ordination and there are no corners ripping through or scissors being lost.  We kick Daddy out and have fun wrapping presents for him and the grandparents, then I wrap the girls' presents when they aren't around and they get to arrange (and rearrange!) them under the tree.  It was more expensive the first year to buy it all, but it's quickly making that back.
So environmentally and budget friendly plus a fun family tradition.

***
Visit
Science@home
to find out more about the Teach/Learn Blogging Carnival.
Please take the time to visit the other participants and find more
Christmas themed
posts on
Technology and Design
.
Enjoy this article? Subscribe to the weekly newsletter to hear about them all.
Or grab my RSS feed