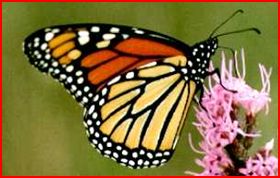 Yeperenye Caterpillar – The caterpillar of the hawkmoth, Yeperenye is an Aboriginal Dreaming spirit in central Australia.  He carved part of the landscape during his travels.

Gecko – They hang on the outside of the flywire doors and catch moths blundering towards our lights.
Orb Spider – They make the most perfect webs and sit in the middle like a cross.

Grasshoppers – Several different sorts, bright green and yellow.  A few years ago we had a plague so bad you had to keep a scourer in the car and clean your windscreen so you could see.  One landed on the little girl's leg about 8 weeks ago and she still tells us about it every time she sees one, she won't even walk past a dead one without getting hysterical.  The joys of an almost 2 year old.

Mice – Not nice but almost inevitable where we are.
Ants – Several different types are making our backyard almost uninhabitable, it happens every years and we just have to endure them.  We've followed the trails all the way down the street and round the corner, they come from miles away!


The big girl had a clever idea to protect herself – rubber gloves on her feet 😀

Crickets – These seem to be inside, lots and lots of nymphs.  I have no idea where the other stages of the life cycle are or where they all come from, but they are throughout the house.
Cockroaches – Not the little black slimy ones, big brown bush cockroaches.  They're about 5cm long and live outside, just coming in to terrify us.

Butterflies – All sorts!
Lady birds – Who doesn't like ladybirds?
Praying Mantis – We usually get these little green ones, but we got an enormous brown one a little while ago.  It would have been about 15cm long.  And of course it fell off the door onto the baby girl!  The good thing about it being so big was we could see it flying for quite a way.

Click beetles – The long thin ones, they get stuck on their backs then jump up and flip over with a click.  Hours of entertainment!
Daddy-Long Legs – I've never seen them so big as when I moved to the goldfields.  There aren't so many here, but in other places we've lived vacuuming the ceiling was a regular household chore.
What sort of beasties do you get?  Do you spend time looking for them?
Get the Thursday Thirteen code here!
The purpose of the meme is to get to know everyone who participates a little bit better every Thursday. Visiting fellow Thirteeners is encouraged! If you participate, leave the link to your Thirteen in others' comments. It's easy, and fun!
Trackbacks, pings, comment links accepted!
View More Thursday Thirteen Participants
Enjoy this article? Subscribe to the weekly newsletter to hear about them all.
Or grab my RSS feed