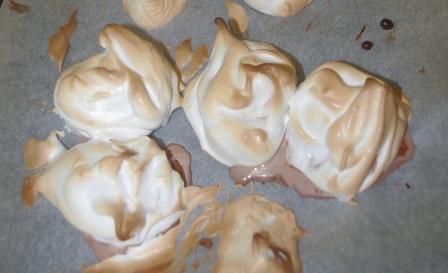 A while ago I tried to make Baked Icecream with fairly dismal results, but my lovely readers came to my rescue and concluded the recipe was wrong. So using suggestions from Jamie, Veronica, Lisa, Alicia and Trinity and based on Ann's never-fail recipe, we tried again.
First I turned the oven on to 230C so it would have time to heat properly, then we put little mounds of icecream onto gingernut biscuits and put them back in the freezer. Interestingly they were still a bit soft, if I were doing it again I'd do that hours earlier to make sure they were as cold as possible.
Using three very little egg whites and a pinch of cream of tartar we beat them until we could "turn the bowl upside down, and the egg whites stick in place."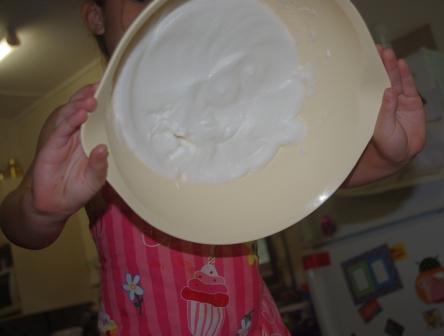 Then we slowly added about 2/3 of a cup of icing sugar a spoon at a time while beating.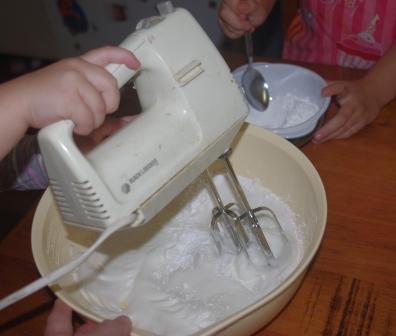 Working quickly we tried to get the biscuits covered. It would have worked better if they were covered thickly, but they were quite fiddly – a payoff between easy making and something the girls would actually eat. And what we could get in a small town.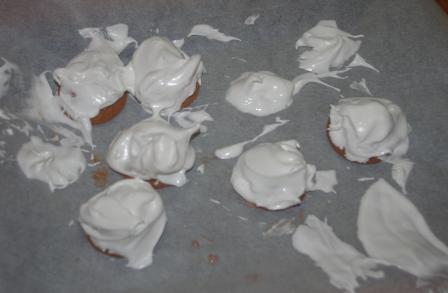 The girls put some extra dobs of meringue on the paper as well to make little 'biscuits' and use it up – we need to decrease that recipe even further. Then we popped them in the hot oven for 3 minutes, they came out up the top.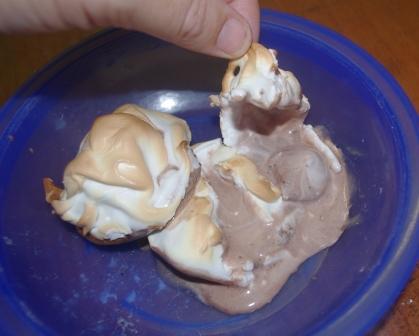 Success. While there was substantial meltage, there is still a solid blob of icecream in there. And doesn't the meringue look pretty?
I suspect we're seeing the problem of surface area vs volume. The icecream is cold through the volume, but is being heated across its surface area. With a small blob the surface area is relatively much larger, so it will melt more easily. It's the opposite to the mouse's problem of keeping warm – they generate heat across their volume but lose it through their skin, so they have to run a faster metabolism and eat relatively huge amounts to stay warm compared to an elephant.
I think we're at the limit of what can be achieved with a 'kiddie serve.' To make this work better we'd need to use a larger ball of icecream and have thicker insulation, which is basically your standard Bombe Alaska. But it was certainly fun to try and satisfying to get it to work.
Enjoy this article? Subscribe to the weekly newsletter to hear about them all.
Or grab my RSS feed