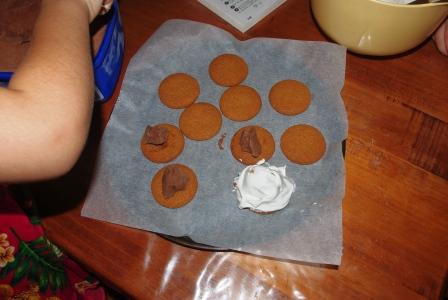 I've tried to make meringue a couple of times and it hasn't worked, so that was probably a sign that I shouldn't have done this. Or at least that I should have tried it several times before putting it in the blogging schedule. But given trips to Melbourne and husband travel and another trip to Sydney coming up, we only got one go at it. And while I can tell you the reasons it should work theoretically, the reality was somewhat different.
But being a science blog and all, this is just an opportunity to work out what went wrong! Seriously! And the girls enjoyed it. So read this bearing in mind that if you know how to make successful meringues or have an idea how to get it to work, please let me know. There's enough for a lot of experiments in a tub of icecream.
Materials
These amounts made far too much meringue for us, but given that I'm obviously not an expert I'm not going to modify the recipe. You can mess it up all on your own. I suspect that if you were to use only one or two eggs the right amount of salt and cream of tartar would be 'a pinch.'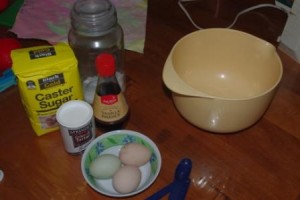 3 egg whites
1/4 tspn cream of tartar
1/4 tspn salt
1/2 tspn vanilla essence
1 cup castor sugar
Large plain biscuits
Icecream
Method
Let the eggs come to room temperature and separate the whites and yolks. 
Put the whites in a bowl along with the cream of tartar, salt and vanilla.
Whisk or beat the mixture until it makes stiff peaks.
Slowly add the sugar a spoon at a time while continuing to beat until the mixture is thick and glossy.
Space the biscuits on a lined tray. Put a small spoon of icecream on each one.
Completely cover the icecream with the meringue mixture. Make sure there are no holes.
Bake in a cool oven 110 degrees C (225F) for about an hour.
What should happen
Cream of tartar is actually tartaric acid, it produces carbon dioxide and helps aerate the meringue. When egg whites are beaten the protein forms long chains that tangle and surround air bubbles, which is what makes them stiff. As they are cooked the sugar hardens and crystallises but it is spread throughout the mixture, so it all goes hard.
The air and carbon dioxide bubbles act as insulation, which stops the heat getting through to the icecream inside and should stop it from melting.
Except
I have several ideas what might have gone wrong. The meringue was still chewy, the biscuits soggy and the icecream everywhere.
I'm pretty sure I didn't use brand new eggs, that could have stopped them forming peaks but they seemed to work ok.
Possibly we didn't whip enough, I was very conscious of the girls' attention span and may have rushed making it.
The sugar didn't really dissolve, not being experienced with meringue I don't know if it is supposed to dissolve or just mix through.
I think the gingernuts were a problem. They do tend to go soggy where other biscuits don't, so maybe they let the icecream out. Maybe try with large choc chip biscuits or milk arrowroot?
Getting it all together was difficult. Between children 'helping' and extremely sticky meringue mixture I probably left gaps.
I still have no idea how to cook the meringue properly – longer? higher temperature? I don't know how to cook the inside!
Over to you – I'd love to get this to work, so does anyone have a foolproof meringue cooking technique? Or the perfect base? Who wants to have a go and then tell me how to do it?
ETA: Thanks to all the great suggestions below, we tried again successfully.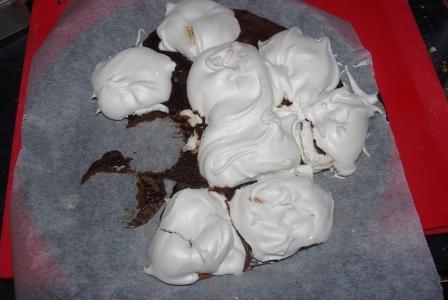 Enjoy this article? Subscribe to the weekly newsletter to hear about them all.
Or grab my RSS feed