We've all done it – pulled out the chairs, thrown a sheet over the table and made a cubby.  In fact if you haven't done it, why not?  It's great fun!  But what does it have to do with science?  Part of Working Scientifically is not just doing science, it's about when we should do science and how it will affect us.  So pretending to camp is a way even little ones can think about the impact science has on them.
Snuggle down in your nest and ask, if we were going to sleep in the cubby all night, what would we need?
Food

Can you take your fridge?  How will you keep it cold?
How will you cook it?
What sort of plates and cutlery will you use?
Where did the food come from?
Weather
How will we keep ourselves warm/cool?
What about if it rains?
Night
How will we see when it gets dark?
What about if we need to go to the toilet?
Where are we going to sleep?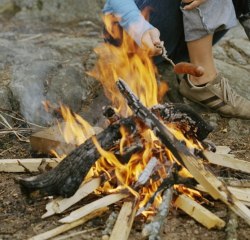 If you have little ones, you might want to just talk about it.  But if you have time, pretending is great!  We've had many a picnic under the table with a torch and little nest of pillows.  We even make pretend fires and roast pretend marshmallows and sing songs and tell stories.  Our girls aren't quite ready for camping in the back yard, the big girl started once with Daddy but after about half an hour announced she was ready to go in.  But it's something we're going to start very soon 😀  Actually, I think they might cope with the lack of technology much better than Mummy and Daddy!
What is some science around you you would findit hard to do without?
Enjoy this article? Subscribe to the weekly newsletter to hear about them all.
Or grab my RSS feed