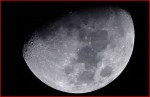 One of the best ways I've heard of to help kids who are 'scared of the dark' is to show that night is about a lot more than just dark.  So here are 13 fun things to do at night.
Insect watching/catching – the easiest time to catch insects is around a light at night.
Moon gazing –Learn about the phases, and a set of binoculars will let you see some good detail on the craters. 

Lantern stalk – Hide in the garden, whoever is 'it' gets the torch.  Don't get caught in the beam!
Check out plants – For all you gardeners, do you have some night blooming flowers in your garden?  If not, go out and watch the flowers closing – we don't usually think about plants moving. 

Measure the temperature – It's obvious that it's colder at night, but do little kids know that?  Can they work out why?  And what does it mean, it leads to all sorts of consequences for the weather and things like ->
Dew forming – As the temperature drops water condenses out of the air and forms drops on handy surfaces and plants.  So here's a lesson in temperature and humidity.
Sunset – Watch the beautiful colours, the size of the sun, the effect on the clouds, you might even see a green flash.
Nocturnal animals – You're unlikely to spot one other than lizards eating moths, but you can still check them out at the zoo or read books about them.
Torch treasure hunt – Either hide things or have a list of natural things you are likely to find in your garden.
Campfires and roasting marshmallows – You don't need to be camping, cooking over an open fire is a little bit of magic.  Wrap potatos and put them in the coals or make a greenstick damper.  (See my comment below on how to make a greenstick damper.  They're very yummy!)

Sleep outside– this is a rite of passage isn't it?  At some point we've all set up a little tent and snuggled down in our sleeping bag, with a friend, sibling or parent along to keep us safe.
Look for a moon shadow – When you get away from artificial lights these are quite easy to see, especially when there's a full moon.
Star gazing and Meteor watching – Older kids can learn some of the constellations, but even little ones like lying back on a rug and looking at the stars.  They can look out for meteors and satellites as well.    For something a bit different look for the emu constellation, a common Aboriginal Australian constellation.  Can you find it here?  Do you know of any other non-Western constellations?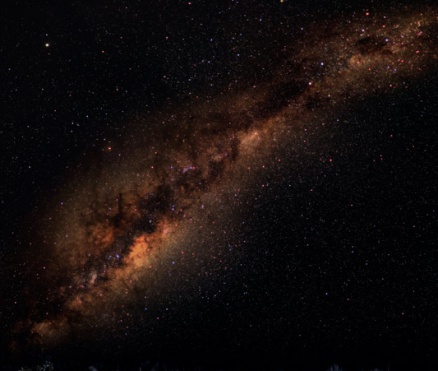 The head is known in Europe as the coalsack, and is near the Southern Cross.  This is part of a photo that won Barnaby Norris 3rd prize in the 2007 Eureka Awards.
Get the Thursday Thirteen code here!
The purpose of the meme is to get to know everyone who participates a little bit better every Thursday. Visiting fellow Thirteeners is encouraged! If you participate, leave the link to your Thirteen in others' comments. It's easy, and fun!
Trackbacks, pings, comment links accepted!
View More Thursday Thirteen Participants
Enjoy this article? Subscribe to the weekly newsletter to hear about them all.
Or grab my RSS feed