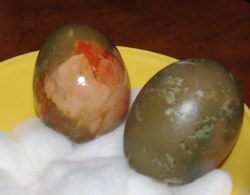 As I write this, I smell of cabbage, egg and vinegar.  Follow the instructions and you can too!  But you'll have happy little people to show for it.
Just about anything that makes a strong colour can be used for dying eggs, including things like red cabbage, beetroot, onion skins, turmeric, coffee and tea.  The great thing about using foods is that you know they will be safe to eat.  It's a brilliant way to do some experimenting, you can go through the garden or the spice rack and test all sorts of things, varying the ingredient, how much you put in, and any additives.  Quick points to get you started:
White eggs work much better, brown eggs don't take dye very well.
Add a bit of vinegar to the water – it breaks down the shell and makes it take the dye better.
Adding a bit of bicarb soda can change the colours.
The colours won't always be what you expect.  Red cabbage comes out dark blue, red onions come out apricot.  You can't necessarily predict what the egg will look like.  (But what a good opportunity to get them to make predictions!)
Make up your dye mixture slightly warmer than the eggs, then put them in and heat them to boiling.  Don't have them boil too vigorously to lessen the chance of them cracking.
Simmer for 10-15 minutes, the longer you leave them the darker the colour will get.  If you can leave them to cool in the mixture or even overnight in the fridge it works well.
Carefully get them out and let them air dry so the colour doesn't rub off.
When they are dry you can gently polish them with a finger dipped in vegetable oil.
Today we did a slightly different technique, more exciting for little ones.  The scientist in me wants to control variables and experiment, the Mum said let them go for it!  Mum won.  If you want bright pretty colours, you're better off doing a solid dye as above, but there's something magic about using flowers and things you find.
It's hot during the day, so this evening we went for a lovely walk down the street and collected lots of flowers.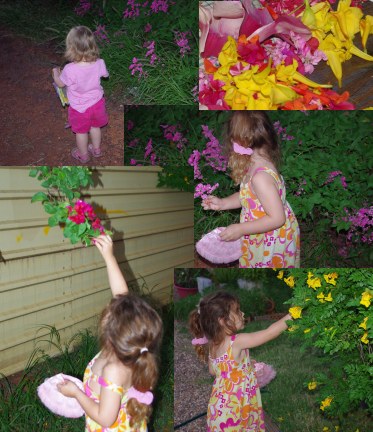 Put some petals on a square of alfoil and put the egg on top, then pile lots of petals around it and wrap it up.  Unfortunately we can only get brown eggs here which means we don't get bright colours, but the girls are still excited to see them work.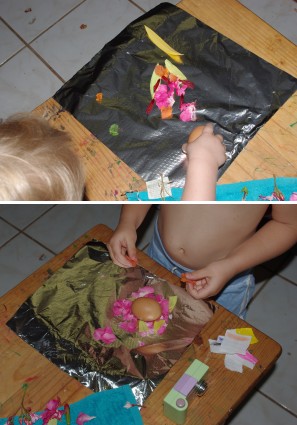 Get as many petals in there as you can so you get some decent colour.  The wrapping doesn't have to be too tight – you want to keep the petals on but still let the water in.  An alternative is to use pantyhose, gauze or muslin, but this is easier for little ones.
Boil the packages as above.

On the left is a red cabbage mixture, putting vinegar in has turned it red instead of blue but it still dyes blue.  I boiled the cabbage first but left it in for two reasons – to get more colour and to stop the eggs moving around too much to try to stop them cracking.  On the right is plain water, you can see that they are loosely wrapped with the ends left open and holes in them to let the water in easily.
After they've cooled I got them out and gently unwrapped them.  You have to be very gentle taking the petals off – it is really easy to rub the dye off but if you leave the petals on they will stick and you can't get them off later.  I left them to dry.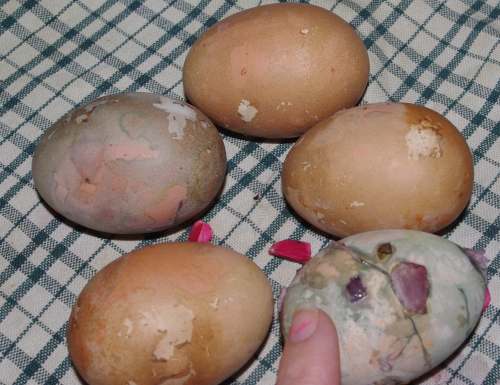 You can see where I've damaged the dye, unfortunately one of them cracked.  We won't be eating that one because I can't guarantee all the petals are safe.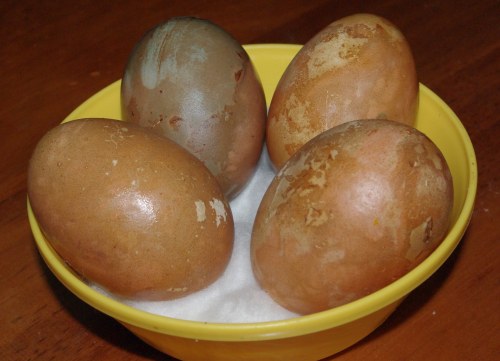 TaDaah!  Polish them up and they're much prettier, they look better in real life too with subtle orange, yellow and pink as well as the blue one.  The blue is from the cabbage.  We gently rubbed them with a tiny bit of vegetable oil on our fingers to polish them.
And just to show you can get interesting patterns, the broken one.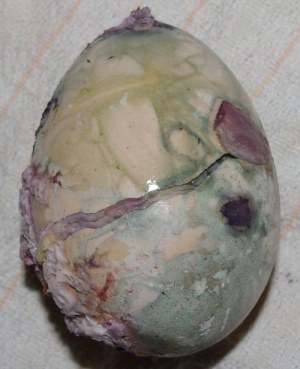 I find it interesting that even though we used yellow, orange and pink flowers most of the colours came out purplish.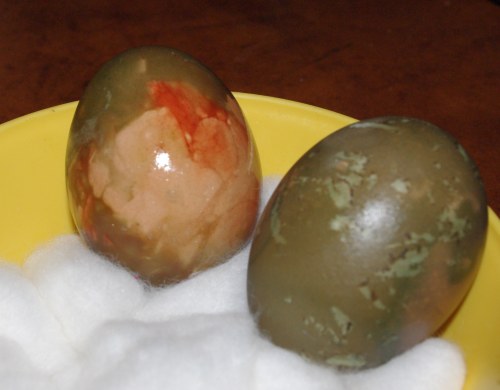 These are our best so far, the right was just boiled plain in red cabbage, the left was rolled up with pink petals and onion leaves and the ends left open to the red cabbage.
I'd love to put up some photos of other people's eggs, this is so simple for little ones to be involved in so please send some photos!
Enjoy this article? Subscribe to the weekly newsletter to hear about them all.
Or grab my RSS feed