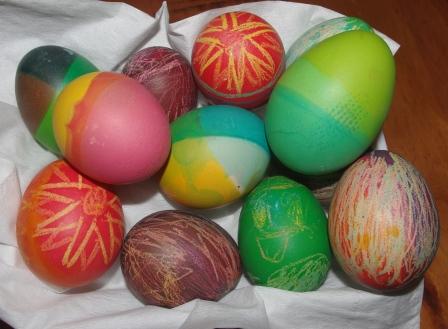 Sometimes it's tough being the youngest. You rarely get to lead, you're never the expert, and everyone's done it before. And if you have the same teacher as your older siblings, you don't even get to come home and say 'Guess what we did!' because they probably did it two years ago. So when the little girl dyed Easter eggs at pre-school, that became our Easter activity. It's not as if we're short of eggs or anything.
We've dyed eggs with flower petals before, but food colouring is a much brighter and more controllable colour. All you need is a splash of vinegar to make it take a bit better on the egg shell, some water and a few drops of colour plus lots of boiled eggs. We did three main activities as well as combining them – using crayons, mixing colours, and a cracked shell to try to dye the egg.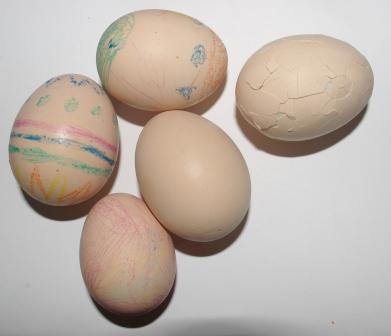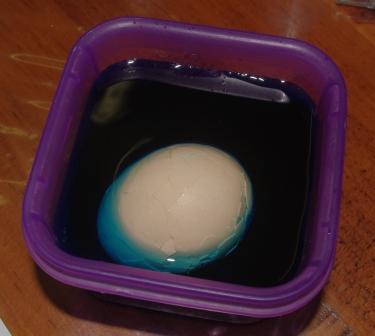 Crayons
Crayons of course are wax based, while the food colouring is water based. So whatever you draw on the eggs resists and doesn't get covered by the dye. I was amazed at how well the dye brought out the colours of the crayons and made them look much brighter.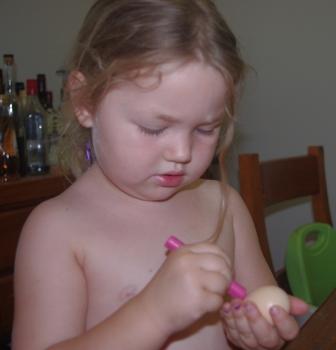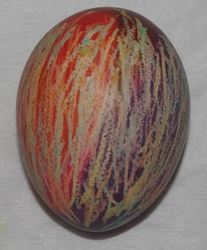 Colour Mixing
I love having the opportunity to do the same thing in lots of different ways. You can mix paints, you can colour over pencils, and you can over-dye eggs. And by turning them around you can make lots of patterns too.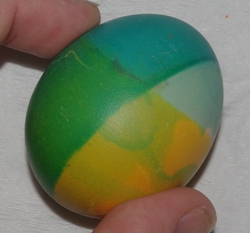 Cracked
When the little girl ate her egg from preschool they noticed there was some colour on the inside, and far from upsetting them they thought this was really cool.  I vaguely remembered seeing something about cracked eggs on Just Bento so we went with that.
I thought we'd have to get it out quickly to stop it just going blue all over, but in reality it would have done better with much longer to soak.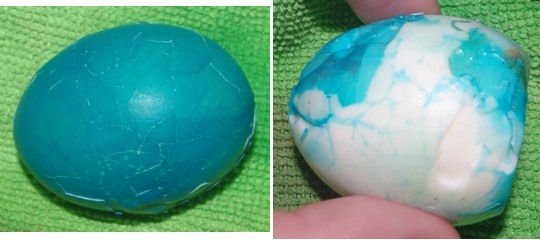 They were thrilled afterwards to see that some of the colour on all of them had soaked through, far from turning them off they were the eggs they wanted to eat.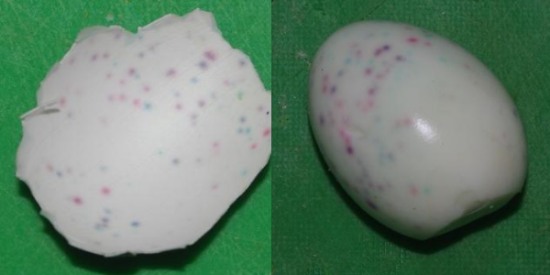 And while we were waiting for them to soak and dry, the little girl decided to write it up. I'm not certain what inspired that – the girls don't see me writing this but know I do it. She's very in to telling stories from books right now, writing her own is a logical step.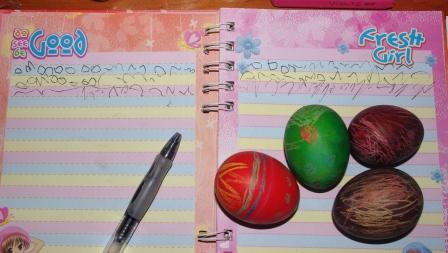 She was so thrilled to have her own 'tivity,' that's a huge reminder to me to make more opportunities for her to be the expert. Have you started easter activities yet?
Enjoy this article? Subscribe to the weekly newsletter to hear about them all.
Or grab my RSS feed