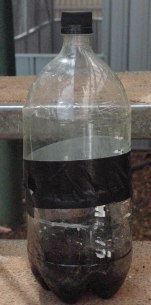 At least I got them to sprout quickly, and given my completely black thumb this is an achievement.
If you're about the same vintage I am you'll remember that when plastic cool drink bottles came out they used to have a plastic cap on the base.  With a bit of patience you could work it off, flip the rest of the bottle upside down, cut off the spout and put it together to make a terrarium.  It takes a little bit more fiddling now, but it can still be done.
Materials
Large plastic bottle
Scissors
Heavy duty tape, duct tape aka MacGuyver tape works well.
Soil or potting mix
Seeds
Water
Method
What Happens
After a while you'll get lots of condensation around the top of the bottle. You've created a miniature version of the water cycle by stopping the water escaping.  The girls have been fascinated by this and the big girl understood it pretty well.
And after a few days, we got little shoots!  Given my usual gardening success this is very exciting.
There is actually a large sprout in there, but that's just a random seed from the soil.  Which would be an interesting experiment – what plants would sprout from your garden? We have all sorts of things blowing around here.
Ironically, I think the terrarium has actually been dryer than the rest of the garden.  The main use of the bottle has been to stop everything being washed away.  It would work really well somewhere sunny indoors, and be good for starting seedlings that need a bit of cosseting as well as for people like me – a sealed system I don't touch is definitely my way of growing plants!  Plus it's nice for kids to see the whole growing process and how the water cycles around without having to put too much effort into keeping them alive.  I know there are times when that effort is the point, but sometimes it's fun to just watch.
This is well within the capabilities of a preschooler, and even the toddler did the planting.  Have a go 🙂

Enjoy this article? Subscribe to the weekly newsletter to hear about them all.
Or grab my RSS feed