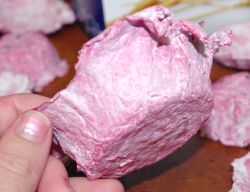 This post is part of the Easter Teach/Learn linkup.
If you think that's an elaborate title, the activity's even bigger. This is not one for littlies or the fainthearted – it's not really that complicated but it takes a lot of time and there are some fiddly bits. A production line works best, both to speed things up and give children a job at their level. And now I've tried to put you off I need to say the results were definitely worth it and it worked really well with a bit of practice.
Last year we made Easter baskets with paper mache on water balloons. These are handmade paper with two twists – rather than producing a flat sheet it is a basket, and there are seeds in it so after Easter it can be planted. My husband came home with a paper making kit a little while ago, then the seeds idea was in CSIRO's Science by Email, so it seemed like the right time to see how it worked.
Materials
Paper, about 3 times as much as you want to make.
Lots of water.
Bucket
Colouring if you want.
A frame with a net. This can be something like a silkscreen, pantyhose over an old picture frame, or an embroidery frame with flywire in it. Or you can get paper making kits or supplies from a lot of craft stores.
Metal muffin tins
Seeds
Something for drying the paper – paper towels, cloths, sponges etc.
Two large flat things for squeezing out your paper. These can be chopping boards, glass, wood, …
Method
Shred/tear/cut up lots of paper. Luckily I have a husband who loves gadgets and shreds all the mail when he's finished with it. Unluckily I didn't realise it included a lot of envelopes with plastic windows. Great for recycling kid's craft, although be careful of the colours or you'll end up with 'preschool grey.' (Thankyou Teacher Tom, that is now my favourite colour description.)
Soak it all in a bucket for a couple of hours, starting with boiling water encourages it all to break down easily.
Blend it up. Can be done with a food processor for extreme messiness but stick blenders really come into their own here. Add food colouring if you want. I have little girls so naturally ours are pink, but this is a good chance to experiment with different colourings like red cabbage leaves, beetroot or petals. You may need to add more water, it should be like a thick soup.
Put your net frame in the water/paper mix, move it along to catch the paper then lift it up.
Now the drying – you need to get as much water out as you can, otherwise it will take days to dry and fall apart when you are shaping it. Start by squeezing your paper into the net to get most of it out, then cover it with a paper towel or a cloth and squeeze it on, flip it over and gently ease it out of the frame.
Have several layers of paper or cloth on one of your flattening boards and lay the paper on top, cover with more drying layers and the other board. Squeeze them over the bucket, this both sticks the paper together and gets out as much water as you can.
Have the muffin tray upside down and some seeds sitting on the base, gently drape the paper over the mould and seeds. Press it until it is stuck together and in a basket shape. Slow and gentle is the trick, tears can be pressed together but doing that usually causes another tear so try to avoid it! Bigger moulds are much, much easier than little fiddly ones, and it is easier to leave some rather than try to do them next to each other. Note: if your tray isn't non-stick, you will need to use cooking spray.
Put them in a very slow oven – less than 100 degrees – and leave them as long as you can. This is to dry them out, not cook the seeds! If you have a fan forced oven it really helps them dry quickly.
After they come out of the oven you can take them off the moulds, depending how long you left them in there they might need more drying time.
All we need to do now is clean them up a bit, then put in some cotton wool and mini easter eggs. Big girl at 5 got the hang of doing the paper and is already searching for more things to shred! Have you made Easter baskets this year?
This post is part of the Play Academy.
Enjoy this article? Subscribe to the weekly newsletter to hear about them all.
Or grab my RSS feed