I didn't intend to write a series about vaccines, but it is a pet topic and there are a lot of scientific misunderstandings out there.  So every now and then when the topic comes up in my life I can see I'll be adding to this.
The immune system
Our bodies face multiple attacks every day.  They are not only attacked by people who are obviously sick – there are environmental antigens and even the colonies living inside us can cause problems.  Thrush is a perfect example – it is normal in the gut, but in the mouth, nipples and vagina it will make us sick if our immune system doesn't deal with it straight away.  This contamination happens all the time, but most of us are lucky enough not to have thrush continuously because our immune system just deals with it.  In other words every single one of us who is not immune compromised has a good immune system.
Your immune system deals with thousands of threats a year, the times you get sick are the tiny percentage compared to the times it is defeated.  If you want numbers, say conservatively your immune system faces 1000 threats in a year and you have 8 colds – that's a 0.8% failure rate!  If you're a little kid and get lots of colds, you might have a 0.15% failure rate.  Even an extremely sickly child who had a new cold every single week (it actually takes little ones longer than that to get over things, but hypothetically an extreme case) would be looking at a 5% failure rate.  To me, that sounds like it's working extremely well – I wish I had a 95% success rate!
In fact, if you get a cold your immune system has not failed, so I really shouldn't say "failure rate," it is a temporary setback.  It only fails if you die or are only saved by medicine.  Having a cold is just the delay between an antigen building up enough for you to notice it and your immune system getting rid of it.  How 'well' we feel is not really about our immune system – we all notice different levels of discomfort at different times.  It depends on far more than our viral load.
People can be immunocompromised for a number of reasons, including chemotherapy and pregnancy.  Most of us are familiar with AIDS – acquired immune deficiency syndrome – the reason it was isolated was because doctors noticed people with really weird diseases that usually occur in parrots or cancer patients.  People were dying of things that the rest of us don't even notice are around – we are still attacked by them, but our immune system deals with them so quickly we don't know about it.  So for the average person without those specific conditions the immune system is extremely strong, even if you are living on processed junk food.  It can be affected by deficiencies in particular nutrients, but getting extra is not going to boost it to super extra extremely strong.
Herd Immunity
The world from a virus' point of view is rather different to ours.  A virus exists to make more of itself.  It generally does this by hijacking other species' cells and hiding there.  Once it infects a host it has to make as much of itself as it can and move on to other hosts, because there are generally only two outcomes – the host destroys the virus, or dies itself (in which case there are no more nice cells and the virus dies too).  So viruses have all sorts of clever ways to get themselves spread as quickly as they can.  In a herd, this is much easier than with separated individuals – there are lots of potential hosts all around you.
The way herd immunity works is by isolating potential hosts and reducing a disease's opportunities to be passed on.  Have a look at the first picture.  It represents 100 people with a 95% vaccination rate.  There are also around 10% of the population who have reduced immunity to that particular virus for some reason.  This is just a representative figure – our immune systems have different reactions to different diseases and vaccines so there is never 100% coverage, some diseases are very high and some fairly low.  We all know people who've had chicken pox more than once, or who have lost their immunity to rubella.  It doesn't mean they have a bad immune system, it means they haven't developed full immunity to that particular antigen.  They are the people who are light pink.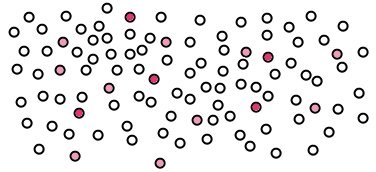 The dark pink people are those who haven't been vaccinated, for whatever reason, or had the disease.  You can see that these people are relatively isolated.  If one of them were to have the virus, there is a 'fence' of immune people around them which stops the virus – there is nowhere for it to multiply because the new host stops it straight away.  The reason I'm talking about vaccination here is because it is the only practical way to get 95% of the population exposed to a disease, it doesn't happen naturally.
Now consider a population with 80% vaccination.  It sounds pretty good, but look at the graphic –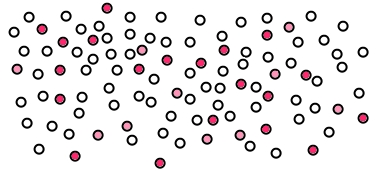 There is no 'fence' around these people, if one of them were to get the virus it could easily be passed to another without immunity, then another, and another.  So the disease in this population will never be controlled because there is always someone else it can go to.
In reality it is even worse, because people who are unvaccinated tend to be in clusters.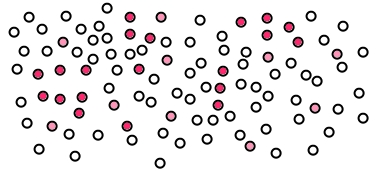 You can see here there are pockets that are almost completely unprotected, or have very low vaccination rates.  This is bad for two reasons – first, it is disastrous for those inside the pocket.  If the virus gets loose in there it will spread quickly and there will be an epidemic.  And the reality is that very few people who are unvaccinated are that way through their own choice – the decision has been made for them by circumstance or by their parents.  Secondly, it has been shown that it is safer to be unvaccinated and surrounded by an immune population, that fully vaccinated and surrounded by non-immune people.  So the vulnerable groups are bigger than they appear when you add in the people on the periphery who are in danger of repeated attacks by the virus – the more attacks there are, the more likely one is to get through!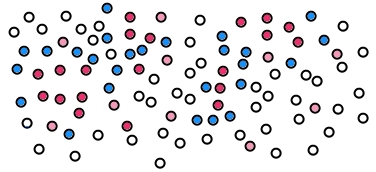 That's a lot of people who are in danger when the epidemic hits.
One last graphic to show why it's so important to have very high coverage, this is a population with only 70% immunity.  This is not unusual in pockets, or in countries without easy access to vaccines.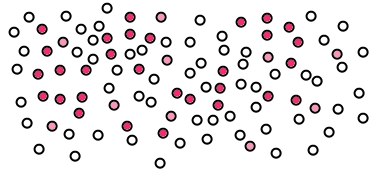 In fact it's fantastic for some countries, but still not good enough.  You can see there is no separation of non-immune people, a virus would happily circulate in this population forever and people are depending on their personal immunity.
In summary:
Unless someone is immunocompromised, their immune system is fine.  In fact it's awesomely fantastic.
A virus' purpose is to be spread to as many people as it possibly can, as quickly as it can.
Herd immunity builds a fence around non-immune people, so viruses cannot find new hosts and are stuck in a dead end (literally).
Herd immunity has to be extremely high to work – if the non-immune people meet up, the virus can use them like a road to get around the whole population and will continue to find new hosts and make people sick.
When non-immune people are in clusters they are just waiting for the epidemic and the people around the edges of the cluster are also in danger.
Enjoy this article? Subscribe to the weekly newsletter to hear about them all.
Or grab my RSS feed