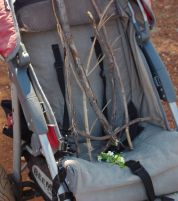 That's one of our favourite books and while we don't collect animals, we do all sorts of other things.  We are enjoying our brief spell of good weather between the rain and scorching heat to walk the big girl to preschool every day.  Which means the little girl and I walk home by ourselves and take our time.  On the first day I picked up lots of branches (this is just the beginning of the haul) so the little one decided that trips home must be about collecting.  And what a collection she has.
I'd love to know what it is that prompts her to pick up some rocks and not others.  The white one in the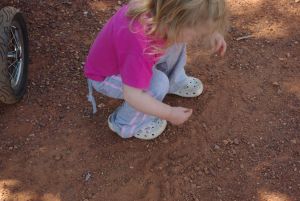 middle of gravel I get, but others appear to be exactly the same as the rock next to them.  And she's very caring – rock for me, rock for Mummy, rock for Daddy.  Plus all the leaves, flowers, sticks, and bottle tops.  She's noticed bits of glass are different to the other rocks, now I want to wash them all and she can see the colours and do some sorting.
Tracks and footprints are great fun too.  We noticed some really fine dirt that took brilliant prints from the pram tyres.  Pull the pram through it,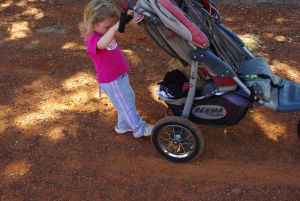 Admire the tracks,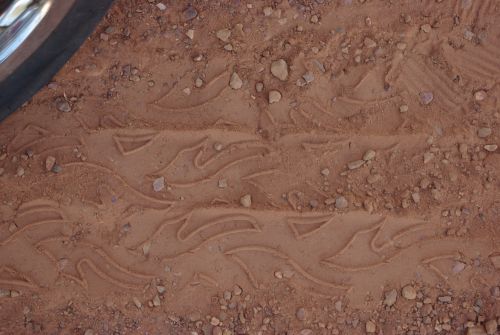 then mess it up and do it again!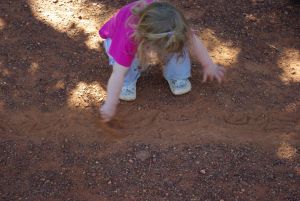 Exploration, observation and experimentation doesn't have to mean going to a park or reserve.  It can be as simple as taking your time on a walk around the block or putting your baby in a different area of the garden.
Enjoy this article? Subscribe to the weekly newsletter to hear about them all.
Or grab my RSS feed