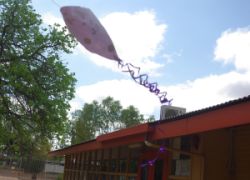 Kites are beautiful and fun for all ages.  They have a very long history and were the first means of human flight – the Chinese military were using them around 2600 years ago to lift observers.  They have been used to carry things (and people), in weather experiments, religious rituals, to send signals and carry radio aerials.  They were instrumental in the development of powered flight because they allowed early pioneers to study lift.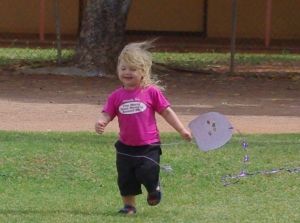 Here I'm just going to talk about the very simplest kites you can make, well within toddler abilities!  It's so easy:
Cut out a shape from paper, the big girl used a traditional kite shape and I made an oval for the little one.
Attach a string to one end using sticky tape.
Attach a tail to the other end.  This can be all sorts of things – curly ribbon, crepe streamers, cloth, ribbons.  The big girl insisted on 5 curly ribbons 🙂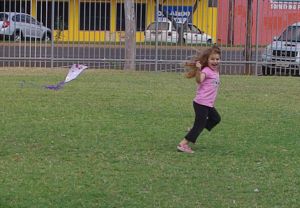 And that's it!  They don't have the lift of more elaborate kites but they are great for running around.  The tail helps to stabilise it and keep it pointing into the wind.  The little one was so proud of herself, that she made the kite, decorated it herself and then got to play with it.
Of course I could talk about all the different things you can test here – size, shape, materials, tails – but I think the photos will give you enough ideas.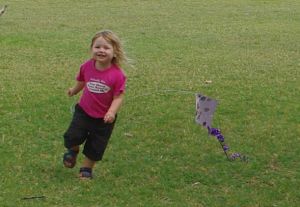 They are fun for babies too, especially in windy weather.  Make one using bright colours and tie it up, it's a beautiful outside mobile.  You can even make miniature ones to attach to prams to entertain little ones outside.  I couldn't get a photo because it's moving, but the oval one spun in the wind and was great to watch.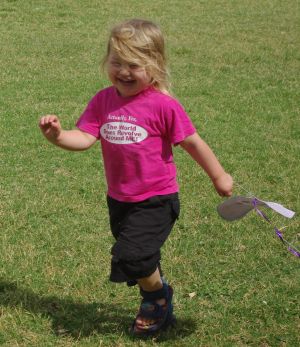 I hope it's windy near you soon 😀  This post is part of the We Play linkup at Childhood 101.
Enjoy this article? Subscribe to the weekly newsletter to hear about them all.
Or grab my RSS feed