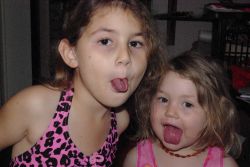 My Dad can wiggle his ears. As kids we thought this was screamingly funny, and family dinners often seemed to end with shouts of 'Wiggle your ears, Dad! Wiggle your ears!' We thought this was an extremely rare and esoteric skill, but many years later I married someone who could also do it, and now the big girl has worked it out too. I'm surrounded by ear wigglers.
What was even funnier for us kids was that my mother can't roll her tongue. This simple for most of us, probably completely useless skill, is genetic. You either can or you can't, and it gave us hours of entertainment when she would obligingly try. She is getting the last laugh, because the little girl doesn't appear able to roll hers either, as you can see in the photo. Inheritance strikes again.
There are all sorts of funny, seemingly irrelevant things about your body that are genetic, and it's great fun to compare. Dominant traits means one of your parents must have it, and you can inherit it from one person. A recessive trait means your parents might not show the trait, but they have the gene and you got a copy from both of them. It hasn't got anything to do with how common they are. There are lots of other ways of inheriting things, but dominant/recessive are the simplest.
I've got a little list to get you started and a fun poll – I thought it be interesting to see how many people out there can wiggle and roll!
Mid-digital Hair – this is hair on the middle knuckle of your fingers, it is tiny and usually it's easier to see the dots it grows out of than the hair itself. Check the fourth finger as it's the most common. Having hair is dominant.
Hairline – A widow's peak is when you have a point of hair in the middle of your forehead, like Dracula. It's dominant.
Tongue rolling – This is the side to side roll making a tube. Rolling is dominant over non-rolling, so we can see how the little girl got non-rolling. It turns out that both her grannies can't roll, so both my husband and I got a non-rolling gene from our Mums, and we both passed it on to the little one. We also both got a dominant rolling gene from our Dads, so we can roll ourselves, and at least one of us passed that to the big girl.
Hand crossing – When you lace your fingers together, does your left or right thumb end up on top? Believe it or not that is genetic, with left thumb on top being dominant.
Longest toe – when you look at your bare feet, is your big toe the longest or does the second toe stick out?  The second toe longest is dominant over big toe.
Hitchhiker's thumb – the formal name for this is 'distal hyperextensibility.' It's if your thumb bends backwards when you do a thumb's up, and some people who bend backwards can't bend forwards. Bending is recessive, straight is dominant.
And now for the polls, just because I think it would be fun to find out how many other non-rollers there are out there:

Loading ...
And for the wigglers, which isn't simple genetics like the others but lots of fun:

Loading ...
The big girl wiggling her ears. She got a bit of stage fright and couldn't remember how to do it, but she got there.

Are there any weird and wonderful things your family can do? 🙂
Enjoy this article? Subscribe to the weekly newsletter to hear about them all.
Or grab my RSS feed