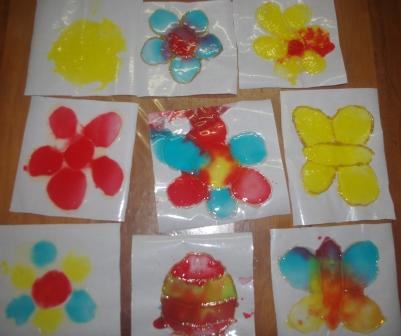 This is one of those great ideas that turned into … something. Part painting, part experiment, part playing with food, part mess making, part problem solving, part colour mixing – that's a lot of parts. It all started when I saw some kids at school fingerpainting with jelly. That would make great stained glass, I thought. And so the quest began. Note: while trying to find out if anyone else had been silly enough done this before, I discovered that stained glass jelly is a recipe. If that's what you're looking for, sorry, enjoy the giggle.
Making it up was easy enough, I made about half the packet with hot water only.
I wanted to do it on contact so we could put them on windows, but that just led to them running into little puddles because it's plastic. Baking paper ditto, and normal paper not so good.
We tried letting it set a bit, it was too lumpy to work for this but great fun for fingerpainting. This would definitely be a fun, safe one for babies and toddlers, little girl had a ball.
What we needed was a way to do real stained glass, with dividers and sections we could pour thin jelly into and let it dry.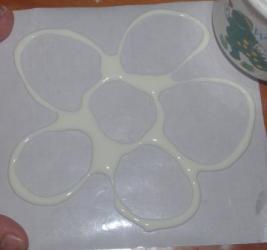 We tried craft glue, but if you let it get too dry it just goes flat,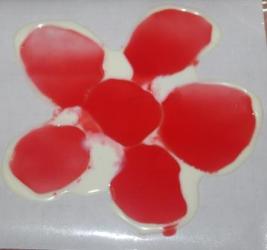 and if you don't let it dry enough it melts into the jelly and spreads. Which is quite a fun experiment all on its own.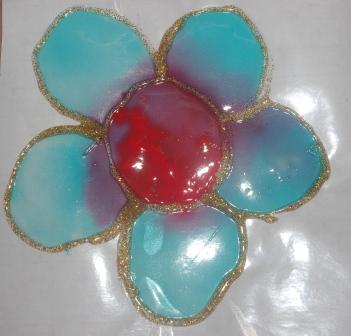 I finally got it to work with a hot glue gun. I try to stick with things most people have around the home, which is why we tried craft glue first, but glue guns are very cheap and useful so many of you probably have access to them. As you can see there's some mixing, but you can gently pull the jelly back and direct it, which is lots of fun.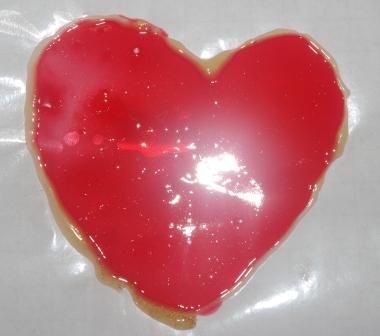 Simple shapes are definitely the way to go for preschoolers, and the jelly needs to be not so set that it's lumpy and hard to direct, but not completely runny. The best technique seems to be to pour some in the middle then use the brush to spread it out to the edges. Little girl could do this quite well.
Up the top you can see our attempts with varying success. Some dried within hours, some are still drying depending on thickness. I know that jelly melts, so I'm hoping to get them to dry completely then cover them with another layer of contact. I'll have to let you know how that works. This is definitely one that was about process and experimentation rather than product!
I do have some tips:
Hot glue gun and simple, high outlines.
Fairly runny jelly, the thinner it is the better it dries but too watery will bead up.
Make sure it is absolutely flat or it will just run off, lots of weights for corners.
If your jelly gets too jelly-like, add a bit of hot water and remix.
Wait until it is completely dry and then wait some more if you want them to last.
Put aside a decent amount of time, this is not a 10 minute activity. While big girl got some done quickly, the fascination of mixing and trying different things took a long time.
You can eat the left over paint, but given that we made it strong then kept adding water ours didn't taste very nice.
Have fun! I'd love for someone else to try this and let me know if they got it to work 🙂
Enjoy this article? Subscribe to the weekly newsletter to hear about them all.
Or grab my RSS feed