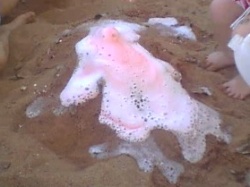 At the request of the lovely Sophie and in honour of Eyjafjallajokull, we made a volcano.  Luckily ours was a lot safer and has had absolutely no effect on international air travel.  And I promise I'm really not going to load every post up with videos from now on, but admit it – don't you want to see the eruptions?
Make your own volcano, simple:
Build up a cone out of dirt.
Put a smallish container in the top, a baby food jar or the bottom of a drink bottle is perfect.
Put loose sodium bicarbonate (bicarb soda) into the jar.
Pour in some vinegar and watch the lava flow!
Variations:
Add some food colouring to look pretty.
Add some detergent.
You can do it the other way around and put your liquids in the jar and pour your bicarb in last.  In my experience little kids find it easier to pour the vinegar than a powder.
What's happening?
This is an example of an acid/base reaction.  Vinegar is an acid, and sodium bicarbonate acts as a base.   At a very basic level (pun intended), you have:
baking soda (sodium bicarbonate) + vinegar (acetic acid) –> carbon dioxide + water + sodium acetate

NaHCO3(s) + CH3COOH(l) –> CO2(g) + H2O(l) + NaCH3COO(aq)

where s = solid, l = liquid, g = gas, aq = aqueous or in solution
The carbon dioxide, of course, is a gas and produces the bubbles, but the vinegar/water solution isn't very strong and they grow big and collapse quickly.  Detergents, on the other hand, produce lots of nice stable foam.  This is because they are quite sticky and they interfere with the surface tension, it is hard for bubbles to grow big but they last for a long time.  Food colouring just looks pretty.
It's beautifully safe for kids to play with, with the usual proviso of not getting it in your eyes.  The 2 year old was happily pouring vinegar in and doing everything and they both enjoyed putting a bit of bicarb on their hands and feeling the bubbles.  With older kids you could make an elaborate permanent volcano out of a flour/salt dough and even add vegetation to be washed away by the boiling lava.  I wonder if they could concentrate enough to look at the flow patterns or if seeing it all erupting over the top is too interesting!
Have fun 🙂
Enjoy this article? Subscribe to the weekly newsletter to hear about them all.
Or grab my RSS feed