Isn't he gorgeous?
He's actually rated for 6+ but it made a fantastic collaborative activity for the three girls when Daddy went back to work!  He started as two pieces of plywood with shapes cut out and a sheet of paper with maps and numbers.  The big girl found all sorts of numbers and noticed a pattern – did you know that 25, 26, 27 and 28 are the same order as counting 5, 6, 7, 8 but they all have a 2 in front?  She was very quick finding the pieces on the wood from the map too.  They were well punched and easy for both girls to be able to push out and we took turns putting them together.  Then they decided they wanted to paint the pieces and I took the opportunity to put a few spots of glue in and make it a bit more stable.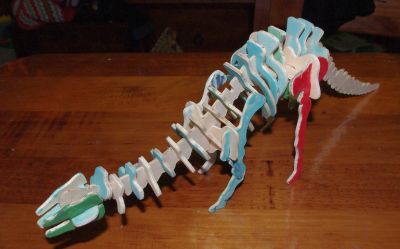 As well as all that maths and fine motor skills, it was good to have an opportunity to just sit together and talk.  The big girl has done a bit on dinosaurs before so she was chatting away about them.  She also knows a little bit about skeletons and was asking about bones so we all felt each other's necks and compared them to the dinosaur.  They both had a ball.
A great little activity to do together, they were very proud of their dinosaur and excited about their special 'Girl Time'. This post is for the We Play linkup at Childhood 101, check out the other great play ideas there.
Enjoy this article? Subscribe to the weekly newsletter to hear about them all.
Or grab my RSS feed